Great Video Poker at Club USA Casino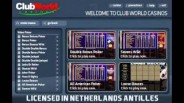 Club USA Casino offers a huge variety of video poker machines in a range of denominations. There over 14 different video poker games including Deuces Wild, All American Poker, Jacks or Better, Joker Poker and more. Many are available in multihand video poker format. Coin-in choices range from $.05 to $5.00 on single hand machines and $.01 to $1.00 on multi-hand machines.
Jokers Wild is another popular wild card game that adds to the excitement of video poker play. The majority of your hands will look similar to a
Jacks or Better
game; however, don't

Gayle Mitchell is the most recognized female expert of casino gambling and has written extensively and presented seminars about casino gambling since 1996. She is the author of the Casino Gambling Made Easier series of books, numerous E-Books, booklets and the Slots Trilogy. She is also the editor of five online gaming newsletters including Casino Players Ezine. Gayle's website is www.easycasinogambling.com
fall into the trap of using the same
Jacks or Better strategy
play.
On average, fewer than 10% of your initial cards dealt will contain the joker, thus your strategy will evolve around this fact.
Below is a 7/5 VP pay schedule for Jokers Wild with minimum payout for Kings or better.

The table below illustrates the payout for specific winning hands, one coin return payout and maximum coin return payout.
Pays – Jokers Wild 7/5

one-coin return

max. coin return

Pair--Kings or Better

returns the bet

5 coins

Two pair (2 PR)

returns the bet

5 coins

Three-of-a-kind (3/kind)

pays 2-1

10 coins

Straight (ST) (sequence, not same suit)

pays 3-1

15 coins

Flush (FL) (non-sequential, same suit)

pays 5-1

25 coins

Full house (FH) (3 of a kind and a pair)

pays 7-1

35 coins

Four-of-a-kind (quad)

pays 20-1

100 coins

Straight flush (SF) (in sequence,
same suit)

pays 50-1

250 coins

Joker Royal (includes Joker)

pays 100-1

500 coins

5-of-a-kind

pays 200-1

1000 coins

Royal flush (RF, No Joker) (except with
max. coins)

pays 250-1

4000 coins
Strategy:

There is also an Aces or Better version as the minimum payout. The strategies below are for Kings or Better and Aces or Better versions. I have divided the strategy notes into those hands that are dealt With Joker and Without Joker as below:

WITH JOKER

Hold pat hands of full house or better

Break a paying flush for a 4-card royal or 4-card open straight flush

Break 3/kind for any 4-card straight flush

Break a pair of aces or kings for a 3-card or better straight flush (must be consecutive), or any 4-card flush

If none of the above, select a middle card, (from 5-10) to keep with the joker.
Barring a middle card, there may be times that you should hold the joker alone.

More than 3% of the time, you won't be able to connect with a straight, flush, straight flush or a high pair.

However, holding the joker alone can give you four new cards and a win.
WITHOUT JOKER

Hold two pair or better

Break a flush for any 4-card royal draw and break a straight for any 4-card straight flush or royal draw.

Break a pair of aces or kings for 3-card royal draw.

Break a low pair for 4-card flush or open ended 3-card straight flush

Break any pair for a 4-card straight flush

Hold any 4-card straight or any 3-card straight flush, if consecutive, discarding small pair for the larger payout

Hold A-K of same suit

Hold suited faces K-Q, K-J, K-10, Q-J, Q-10, or J-10
Go for a straight flush whenever possible, for the larger return. With this wild-card game, straight flush and Joker Royal flush opportunities appear more often than Jacks or Better. Keep a lower pair over the possibility of pulling a joker for a four-card straight, especially an inside straight. Although, it is suggested to hold an inside straight in wild-card games; in this case the payout for the straight has been reduced from four to three, so keep the pair only. As with all VP games, maximum coin play for each hand is the best strategy.