The humble slot machine, a feature of almost every pub floor and casino across the globe. Perfect for the first time player or the seasoned pro, it often acts as many peoples first step into the gambling

There are occasions when we here at ReadyBetGo want to bring you interesting facts about the gambling industry When something catches our eye, we will publish it for your enjoyment.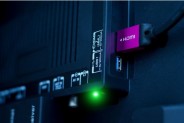 world. The foundations of the machine know today is credited to an American mechanic by the name of Charles Fey. Born August Fey in Bavaria, Germany back in 1862, Fey worked and travelled across Europe before finally settling on the States, arriving in New Jersey to live with his Uncle. Having moved around the US, he eventually settled in California where he began working for engineering firm Electric Works. In the 1880's, slot machines were a popular form of entertainment, although they hugely differed from the ones we know and love today. Gustav Friedrich Wilhelm Schultze's developed the Horseshoe Slot Machine that featured the first automatic pay out system, which Fey later modified to pay out cash, laying the foundations for the device we now know.
Jump forward a few decades into the 1930's, by this point Slot Machines had become cheaper and mass produced products, making them more common place. This also meant they were much easier to cheat, leaving them susceptible to manipulation by criminals. It wasn't long before players became aware they could stop the machine wherever they wanted to give themselves an advantage and guarantee a win.
As a few decades pass, as a method of keeping the cheaters at bay the earliest machines with electronic computer parts began making their way into the mainstream. These new machines gave outcomes that were dependent on a computer rather than a physical mechanism. This made the game seemingly cheat-proof, and therefore resulted in better profits. They also allowed for bigger pay-outs, making them more popular with players. As lights and sounds started being add to machines, they become more attractive to players, bringing in new customers and increased profits. The closest ancestor to the modern day machine was created by a gentleman named Walt Fraley. His idea was to pair a television screen with a computer-controlled slot game to invent the now infamous "Fortune Coin" game. This revolutionized the industry, and brought us closer to the modern day machines we now recognize today.
The first mobile casino game was a Java game by the name of Pub Fruity, released in the early 2000's and allowed players to enjoy slots on the go, of course, no money was involved in these games, as they were just friendly games designed for fun rather than to win. With the introduction of the AppStore and the advances in mobile screen resolutions, the possibilities are endless. If you're looking for a new challenge, check out the online slots from Paddy Power to see just how many there are to choose from, and just how easy it is to win big!