When it comes to choosing online slots in the UK, two key metrics can help you identify the best slots to win: volatility and Return to Player (RTP) percentage. Understanding these terms and how they

There are occasions when we here at ReadyBetGo want to bring you interesting facts about the gambling industry When something catches our eye, we will publish it for your enjoyment.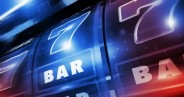 affect your gameplay is crucial in making informed decisions about which slot games to play. In this article, we'll explore the concepts of volatility and RTP, and how they can help you maximize your winning potential.
Return to Player (RTP): RTP is a metric expressed as a percentage, indicating the amount of money a slot game is expected to pay back to players over a long period. For example, if a slot has an RTP of 96%, it means that for every £100 wagered, the game is expected to pay back £96 in winnings. While RTP is not a guarantee of short-term success, choosing games with a high RTP can increase your chances of winning over time.
Volatility: Volatility (or variance) refers to the level of risk associated with a particular slot game. It is an indication of how frequently and how much you can expect to win during a gaming session. There are three main levels of volatility:
Low Volatility: These slots offer more frequent, smaller wins. They are suitable for players with a smaller bankroll or those who prefer a lower-risk gaming experience.
Medium Volatility: These games offer a balanced combination of smaller and larger wins, providing a middle ground for players who are willing to take on a moderate level of risk.
High Volatility: High volatility slots offer larger wins but less frequently. They are best suited for players with a larger bankroll and a higher risk tolerance.
Balancing Volatility and RTP: When choosing the best slots to win, it's important to strike a balance between volatility and RTP. While high RTP games can offer better long-term returns, their volatility level can impact the frequency and size of wins. Conversely, high volatility games may provide larger payouts but can also result in longer losing streaks.
Personal Playing Style: Ultimately, the best slot games for you will depend on your personal playing style and risk tolerance. Some players may prefer the excitement of high volatility games, while others may prefer the steadier, more frequent wins offered by low volatility slots. Experimenting with different games and finding the ones that best suit your preferences is key to enjoying your online slot experience.
In conclusion, understanding the concepts of volatility and RTP can help you make more informed decisions when choosing which online slots to play. By considering these metrics alongside your personal playing style and risk tolerance, you can identify the best slots to win and maximize your chances of success in the world of online slot games.