The most popular gambling form is currently playing a game of chance with a slot or fruit machine. If you are not a regular player, reading the words 'slot machines' may take you back to the 90's

There are occasions when we here at ReadyBetGo want to bring you interesting facts about the gambling industry When something catches our eye, we will publish it for your enjoyment.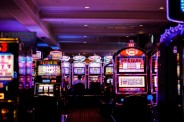 one-armed bandits. However, the gambling industry, like many others, has renewed itself thanks to technological advances.
Some pioneers like Bally Technologies and Aristocrat have taken their land-based slot favorites to online platforms. Both mobile and desktop gambling technology is available for enthusiasts thanks to companies like Ainsworth and Play'n Go. This offers gamers a vast universe of gambling options.
Despite casino lovers having a special affection for land-based machines; the digital world is available 24/7. Online gambling could become not only a time of special relaxation but also a simple way to gain real money.
Both traditional and online slots machines have both positive and negative aspects. Through the following article, we will evaluate the differences between online and land-based slots machines versions.
Casino land-based slots have a limited variety of slot machines due to their obvious space restrictions. However, online casinos have a large collection of innovative and different slots to offer. Furthermore, online gambling platforms provide numerous slot themes and features. This way, the player can pick from hundreds of opportunities and start enjoying the slot games going here.
Return to play or RTP is the part of the gambled money in a slot machine that will eventually be paid back to players. Online gambling has higher rates compared to land-based slots machines. This is because online casinos have reduced logistical and operative costs and tend to offer bigger prizes to keep players coming back. Online slots offer even a 99% payout in comparison to under 85% of land-based machines.
Most gamers enjoy the casino or pub atmosphere where drinks, food, and the natural noise of coins and riffling set the mood. Moreover, striking a jackpot alongside other players offers a celebratory ambiance, filled with high fives, and back claps. Although online platforms offer high-end graphics and realistic ambience sounds, those will never match the casino climate.
However, other players just want to bet from the comfort of their homes. Online slots guarantee playing all day long without any disturbance. Moreover, online gambling offers the convenience of playing in gamers' living rooms while meeting with friends and family. At the end of the day, this perspective can be a deal-breaker or sealer regarding gamers' tastes.
Traditional land-based machines take a few minutes to start gambling. For every machine, the gamer has to insert players' cards, deposit funds, and pick game settings. Moreover, land-based machines usually take about three minutes to complete a spin cycle.
Online slots are certainly faster. Those take a few dozen seconds to complete a cycle and a button to skip animation. These tricks save more than a few minutes to gamers. Additionally, there is no session login time-waste since devices store login data. Therefore, online gambling has become the speedster of slots machines.
Cryptocurrency and Gambling
Despite traditional casinos taking debit cards and other payment methods, online casinos are already trading with cryptos. The mainstream cryptocurrency market is on the frontline. BTC, ETH, BCH, and many others are available for gambling in the online slots platforms.
Most gamers do not live near land-based slots. For Americans, a minor expedition to Las Vegas comes with basic logistic expenses such as airfare and accommodations. Even traveling to a local casino is time and money consuming.
Therefore, online gambling has a plus in this arena. This is a great advantage over the land-based gambling system since there are no travel expenses.
Both gambling versions have some technology features that the other doesn't. Some land-based machines such as Hit Sphinx 3D offer unmatched visual effects like coins flying out of the machine. Likewise, some casinos even offer special motion effects chairs to boost casino experience. However, online gambling has promising features as well due to enhanced AR and VR technologies.
Unlike traditional land-based casino slots machines, online platforms offer free slot gambling to gamers. Some websites even offer a demo mode to teach features and pay lines to their players. This is a great way for beginners to get in touch with the field without any financial risk and simply enjoying the game.