Back in 1895, inventor Charles Fey created an incredible slot machine game. The Liberty Bell was the first mechanical slot game, and it debuted in San Francisco. Charles Fey decided to place a few

There are occasions when we here at ReadyBetGo want to bring you interesting facts about the gambling industry When something catches our eye, we will publish it for your enjoyment.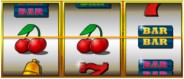 symbols on the spinning reels, including a spade, a heart, and a diamond, as well as a cracked image of the Liberty Bell. Of course, slot machine games have come a long way since then. Yet there is little literature on why slot manufacturers choose the symbols they do for these games. An in-depth study of the fruit-themed symbols, bars, bells, whistles, and other icons that pepper the reels on slot machine games reveals some fascinating insights.
The Number 7 - the number 7 has particular importance when it comes to slot machine games, and gambling in general. 7 is considered a lucky number by players in many countries. For example, there are 7 days in a week, 7 seas, 7 colours in a rainbow (red, orange, yellow, green, blue, indigo and violet), 7 heavens, 7 notes on the musical scale, 7 wonders of the world, etc. It's no wonder then that the number 7 features so prominently in casinos, and on slot reels. This is true across many cultures.
Bar Symbols - the bar symbols may have a double meaning on slot machine reels. Consider that in the early days of slot games, many establishments that featured these contraptions were actual bars. Therefore, one of the reasons we see so many bar symbols on slots may in fact be a tribute to the bars that popularized these games for the masses.
Cherries, Lemons, Oranges, Watermelons – these fruit symbols are pervasive on classic slot machine games. There is no doubt that people enjoy the brightly coloured fruits, and they are associated with the prizes that people would typically win in the 1800s and 1900s. As thanks for their contribution to the development of slot games, fruit symbols have been retained on the spinning reels. Many of us assume that classic slot games feature fruits because they are tasty treats, whereas they were in fact literal prizes back in the day.
Digits and Royals – numbers 9, 10, Jack, Queen, King and Ace are popular on slot machine games. These have always been associated with gambling, as they provide a hierarchy in terms of how to evaluate wins. The Royals offer the bigger prizes while the 9s and 10s offer the lower prizes. In slot games, the objective is to form combinations of high-paying symbols on activated paylines.
Fruit Machine Symbols – A Quick History Lesson
About 100 years ago a gentleman or a lady playing slot games would be rewarded with things like chewing gum, fruits, or cigars. If you managed to win the Megabucks slot game jackpot back then, you would probably receive tens of millions of packets of chewing gum as your prize. Fortunately, we now receive cash payments when we land mega-money jackpots.
Today, fruit slots remain as popular as ever. In Commonwealth countries, they are known as classic slots, fruit slots, fruity slots, or pub fruity's. You're likely to find a smorgasbord of plums, pears, apples, melons, pineapples, cherries and the like. In North America, at the turn-of-the-century, the fruit symbols were representations of the types of chewing gum you would likely receive if you won the jackpot. For example, cherry fruits would be associated with cherry gum, pineapple fruits would be associated with pineapple-flavoured gum. It all goes back to the original prizes and payouts that winning players would receive.
And yes, it all harkens back to the days of old when Charles Fey invented the Liberty Bell slot machine game. He used fruit symbols on his reels, and the runaway success of slot machine games has made them staples on classic slots. By 1963, Bally and Williams (WMS) created the first electromechanical fruit machine slot game. Again, this machine used many of the iconic fruit symbols.
We have a Soft Spot for Fruity Symbols
As slot machine games progressed, electronic slots came into being. The first of these was Big Bertha which was powered by a 5 hp engine and featured 160 symbols on the reels. Despite advances in technology, the fruit symbols remained. Gambling culture has accepted fruit-themed symbols on slot games since inception.
They have been etched into our consciousness as the poster child of the classic slot. Even in the digital age, there are many popular slot games that feature fruit symbols. Many examples abound, such as Fruit Blast, Fruit Shop, Fruit Shop Xmas, Fruit Warp, Reel Rush, and hundreds of others.
We may have video slots games today with innumerable paylines, 5 spinning reels and HD audio-visual animation, but gaming aficionados always have a soft spot for the classic slot symbols.