How do slot machines work?
Slot machines, one of the most popular forms of casino gambling in existence. Though they do not have the reputation of massive payouts that games such poker or blackjack

There are occasions when we here at ReadyBetGo want to bring you interesting facts about the gambling industry When something catches our eye, we will publish it for your enjoyment.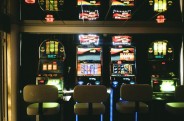 do, slots are very popular, and unlike other games in casinos, no matter where you go there will be a game available for you when you're playing slot machines.
Other games are restricted to a number of seats or maximum number of players, but any land-based casino will have so many machines that there is certain to be one free. There is also a vast variety of types of slots for you to choose from.
Understanding how slots work is the first key to building your way to becoming an expert gambler. Slots are almost entirely a game of chance, meaning there is not a lot of strategy involved, and each player has the same odds of winning. Just spin the reels and hope to match symbols along the various paylines.
Why should you play slots?
When it comes to percentages, slots online or land-based can't really compare to the big win table games like poker, blackjack, roulette, and crap. However, there are still plenty of reasons to play slots.
Ease.
First, when you play slots, there is not really any learning curve to playing them. At the most basic level, you just slip the currency into a bill validator to buy credits, push a button or pull a handle to start the reels spinning and see what symbols land on the paylines. There are no strategies to learn, and no one will criticize you if you make a mistake, like you might find at a blackjack table.
While many will try to tell you strategy there really isn't one, the main thing you have to learn with slots is which type of machine you enjoy most and how to work with payback percentages, but that is it. There is no strategy and no learning curve, just you, the reels, and a game of chance.
Low minimum wagers.
If you were to walk into a Las Vegas casino, then it is rare you would find any game that would offer you a minimum wager of anything less than $5, even at tables a minimum of $5 is still low. Slot machines offer low rollers a chance to play for much less, you can get some 1-cent video slots with 30 paylines, meaning lines across the video reels on which you are paid if matching symbols line up. If you bet 1 cent on each pay line, it is 30 cents per spin, which is much cheaper than any table minimum at any casino.
Of course, you can bet more if you want to, a machine may allow bets up to 10 credits per payline or a maximum of a $3 bet, but with minimum bets, slots can pay off as an inexpensive form of entertainment.
Big jackpot chances.
Everyone is attracted to big money opportunities, and big money wins is a possibility on slots. It is possible for you to even win thousands of dollars on a slot machine, even though it is rare. You could even win millions on some games, with one lightning strikes lucky spin.
The largest jackpot to come out of a slot machine in history is $39.7 million, which came on a $3 bet on a $1 Denomination International Game Technology Megabucks machine at the Excalibur casino in Vegas back in '03.
Do not let this tempt you, though, jackpots this big are super rare. Yet, any dedicated slot player will occasionally collect winnings hundreds of times the size of their bet, it won't be millions but a $300 win on a $0.30 bet is the kind of win that keeps you coming back for more.
Top Tips.
If you are a newbie to slots, you do not have to jump in right away. Take your time to understand the casino scene, online or offline. So, here are some top tips to get you started.
Choose your slots carefully.
No two slots are the same, each machine will have different themes, soundtracks, additional features, symbols and different return to player rates. It pays to go to a game with a high RTP rate.
Study the pay table.
Every slot machine has its own pay table, this shows what each symbol is worth and which are the most lucrative.
Aim for smaller jackpots.
Smaller jackpots tend to pay out more often, going for this technique is worth it if you don't want to chase the big bucks.