If you're anything like me, you'll enjoy a slot game that incorporates something from history. Free Pompeii slot machine, a slot game from Aristocrat, does exactly that, being perhaps one

There are occasions when we here at ReadyBetGo want to bring you interesting facts about the gambling industry When something catches our eye, we will publish it for your enjoyment.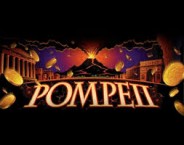 of the most-known, historic places in Italy. This is mainly due to the fact that it, along with the neighbouring town of Herculaneum, was destroyed and buried under several metres of volcanic ash and pumice after Mount Vesuvius erupted. The essence of that moment is what Aristocrat tries capturing in this game, which is what struck me first about its design. The background depicts the volcano in mid-eruption and crumbling structures around the reels. If a theme is incorporated well from the offset, I'm already hooked.
The setup of the slot incorporates appealing colours and good graphics, which is what will first capture your attention. The five reels and three rows bring a sense of familiarity with them for any avid slot player, such as myself. Upon these reels is where the icons of the game reside, and I was quite thrilled to see 243 ways to win in play. The more ways there are to win, the more chances there are, right?
The icons also brought a sense of familiarity to me, thanks to the first six being the playing card symbols. These exist in the form of the 9, 10, J, Q, K and A, with the last two of these being the higher paying ones. Then, the theme of the game will come to life again, with higher-paying symbols relating to the Roman Empire. So, you'll see a Roman chariot, a Roman helmet, a sword and a sparkly piece of jewellery.
The Wagering Options
It's quite common for games with 243 ways to win in them to not allow any customisation of such. However, I was quite pleased to have such vast control over my wager amount. The game contains the possibility to choose a coin denomination between $0.02 and $1 first of all. And then afterwards, you can decide how many credits to bring into play per round between 25 and 125. So, you'll be able to place bets of up to $125 per spin.
The ways to win in the slot are only for combinations formed from left to right, and not both ways. This can come from two of a kind symbols, up to five of a kind. Way wins are also combined and added together, so if you form more than one winning combination in a single spin, you can benefit from them being added up together.
Specials in Pompeii
Fortunately, the slot game isn't all about the base round. If you're anything like me, you'll enjoy video slots with intriguing bonus features too. In Pompeii, first of all, you will get to see a wild icon appear on the reels. This comes in the form of Mount Vesuvius, which is in the midst of erupting. It's a bit of a shame that the wild is only able to show up on reels two and four, but there is a reason for this as we'll find out with…
The icon of the ancient gold coin. This one works as the game's scatter offering. Whenever three, four or five of these come into view in any location, you'll activate 10, 15 or 20 freespins, respectively. During the freespins round of Pompeii, if you spin the wild icon into play and it works as a substitute in a winning combination on reel two, your win pay-out receives a triple multiplier. And if it does the same on reel four, the win is multiplied by five times. Should both reels have a wild on them that substitute in a win, the pay-out receives a 15 times multiplier! Therefore, additional perks of the wild make gameplay in freespins more exciting.
Conclusion
I have to say that I do enjoy the overall theme behind Pompeii. It's a great one to work with and I found that the design of the background encapsulated this nicely. While the Aristocrat graphics in it aren't the most spectacular that I've ever seen, they do hold well to the Pompeii design. I like the inclusion of the freespins round with wild icons that multiply your pay-outs. All in all, it's a nice enough game for me, but I would have liked to have seen more bonus features in it. Play Pompeii slot machine for free at Slotu.com