While online slot games are primarily based on luck and chance, there are still strategies and tips you can employ to boost your winning potential. In this article, we'll explore some of the top tips

There are occasions when we here at ReadyBetGo want to bring you interesting facts about the gambling industry When something catches our eye, we will publish it for your enjoyment.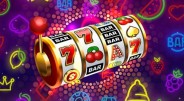 for mastering online slots, helping you make the most of your gaming experience and increase your chances of hitting the jackpot on the best slots.
Understand the Basics: Before diving into any slot game, it's essential to familiarize yourself with the basics. Understand how paylines work, the significance of various symbols, and how bonus rounds are triggered. This knowledge will help you make informed decisions while playing and give you a better grasp of the game mechanics.
Choose the Right Game: With thousands of online slots available, finding the best slots to play can be a challenge. Look for games with a high Return to Player (RTP) percentage, which indicates the amount of money the game pays back to players over time. Additionally, consider the game's volatility – low volatility slots offer more frequent, smaller wins, while high volatility games offer larger wins but less often.
Manage Your Bankroll: Proper bankroll management is crucial when playing slot games. Set a budget for your gaming session and stick to it, ensuring that you never chase losses or spend more than you can afford. This will help you maintain a healthy and enjoyable relationship with online gambling.
Take Advantage of Bonuses and Promotions: Online casinos frequently offer bonuses and promotions for new and existing players. Keep an eye out for these offers, as they can provide you with free spins, deposit matches, or even cashback on your losses. Just be sure to read the terms and conditions of any offer to ensure it's a good fit for your playing style.
Practice with Free Games: Many online casinos offer free versions of their slot games, allowing you to practice and familiarize yourself with the game mechanics before wagering real money. This can be a valuable tool for refining your strategy and understanding the nuances of each game.
Know When to Quit: While it's tempting to keep playing in the hopes of hitting a big win, it's important to recognize when it's time to walk away. Set a win or loss limit for yourself, and once you've reached it, take a break or end your gaming session. This will help you maintain a healthy balance and avoid potential problem gambling behaviors.
In conclusion, while there's no surefire way to guarantee success in online slots, following these tips and strategies can help you increase your winning chances and make the most of your gaming experience. By understanding the basics, choosing the right games, managing your bankroll, and taking advantage of bonuses, you'll be well on your way to mastering the world of online slot games.