Club USA Casino Has Great Slots!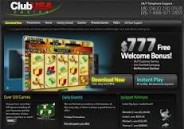 In addition to a wide selection of slots games, Club USA Casino features poker, blackjack, baccarat, keno, craps, roulette and progressives jackpots. Newly released slots include Coyote Cash, Funky Monkey, Enchanted Garden, Jackpot Cleopatra's Gold, Monster Mayhem, Realm of Riches, and Ronin Play any of the Video Slots plus Keno and Scratch Cards and receive a 100% bonus up to $777, using coupon code: BIGSLOT. And the best news is the casino accepts US players and the deposits are easy to make.
Whether you're an experienced online slots player or completely new to this world, one thing you are sure to have noticed is how some of the most eye-catching titles around tend to be based on

There are occasions when we here at ReadyBetGo want to bring you interesting facts about the gambling industry When something catches our eye, we will publish it for your enjoyment.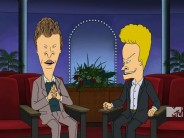 major TV and film franchises.
A diverse array of shows and movies have been adapted into slots through the years, from big screen blockbusters like Jurassic Park to more modern hits like the Netflix series Narcos. However, one genre of TV which has been mined time and time again is the world of cartoons aimed at adult audiences, with a recently released online slot game putting this issue firmly in the spotlight.
Iconic duo
Blueprint Gaming recently announced the launch of a game that features MTV's famous sniggering couch potatoes Beavis and Butthead, with the title using a range of imagery and clips of classic scenes from Mike Judge's creation.
Only unveiled by Blueprint at the end of May, the game is already available across sites including Buzz Bingo, where it can be played alongside similarly adult-themed TV and film titles like a slot based on the hit Mark Wahlberg comedy Ted.
The introduction of a duo as iconic as Beavis and Butthead to the online slot world is undoubtedly notable, but it is fair to say that the pair are far from the only adult-themed animation stars to be given this treatment.
Pushing the envelope
There is a strong argument to say that South Park may not exist if it wasn't for the humour that Beavis and Butthead brought to the small screen. However, the Comedy Central show grew to become a huge hit in its own right, and its popularity led NetEnt to pay homage to its style in a five-reel online slot.
Another adult-themed cartoon to get adapted into a slot was Seth McFarlane's much-loved Family Guy. While it started in the late 1990s, the show – like South Park – has still been going strong in recent years, with viewers seemingly not being able to get enough of the adventures of the Griffins. IGT are behind the online slot based on the show.
But just why have online slots related to such TV franchises become so popular? There could be a range of factors behind it, but one will undoubtedly be that developers are keen to tap into the popularity of these shows and attract people to experience them in new ways. The likes of Beavis and Butthead, South Park and Family Guy have also been around long enough to evoke a sense of nostalgia in people too, which can, of course, be quite powerful and may encourage people to check out the games.
What's next?
All in all, it is interesting to see how this trend for slots related to adult-themed cartoons has developed.
There is clearly a sense within the industry that it is a style worth pursuing, and it will be fascinating to see what is next to follow the likes of Beavis and Butthead into this world.