Slots are Loose Online!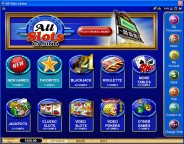 All Slots Casino has one of the largest collection of slots and some of the loosest slots on the web. Their selection is huge and with less overhead, employee costs and taxes than your typical brick and mortar casino, they can afford to give back a bigger percentages of bets back to the customer. Check it out!
Play Penny Slots Now!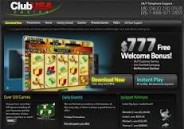 If you are just learning about slots, you should check out Club USA Casino. You can keep your risk to a minimum by playing their big selection of penny slots and you'll also get a nice sign-up bonus.
There are a great number of books out there that profess to give you the best strategies to win when playing
slot machines
. If you take out the pictures and the glossary, many of these books are very short, perhaps 50 pages or so. They might not be as short as "Mike Tyson's Guide to Dating Etiquette" or the "Amish Phone Book," but they are short for a reason. Slot machines are impossible to beat over the long run. The best you can do is to stretch your playing time and enjoy every minute of it.
Slot machines are set to pay back between 80-98% of every coin you put in. None of them are set to pay out more than 100%, because if they were, the casino would lose money. However, casinos are competitive, and they are especially competitive when it comes to slot players who are the bread and butter of their customer base. So casinos will put
loose slot machines
on the floor to get people to stay and play. In fact, high slot payouts are one of the primary ways casinos can market themselves. The question is where can you find the higher payout machines and avoid the lower paying ones?
Location, location, location
There's usually a direct correlation between the tightness of the machines and the luxuriousness of a casino. Why is that? A top-end casino, in a great town, say
Las Vegas
, has a lot to offer you in atmosphere, amenities, entertainment, room and food quality, service and all the things that make you want to go there in the first place. If it's high-end, they figure you are willing to pay a bit more for your slot fun just to stay in their great casino.
Let's look at some real-life examples. The biggest and most luxurious casinos on the Strip in Las Vegas pay back about 90% on their nickel slots and nearly 92% back on their quarter slots. That's not bad for the player, but let's compares it to Downtown Las Vegas, Reno and the locals' market in Las Vegas. In Downtown, you get 91% back on nickel play and nearly 95% back on quarter play. If you look at Reno's high-end properties, you get 92% back with nickels and 94% back for quarters. Finally, let's look at where the locals play in Las Vegas – the Boulder Strip. The Boulder Strip market pays better than 93% back in nickels and better than 96% in quarters.
So you see there's a continuum. If you want the best deal, go to where the locals play. The casinos in this market are much more competitive and they'll give you a better deal. You still may not get over 100%, but you'll be a lot closer.
Finally, a word of warning. Airport slots are the worst deal in town. They have you as a captive audience and don't care if you come back. They are counting on your boredom, and will squeeze a few more dollars out of you. Try to avoid them.