New Bonus Game Slots!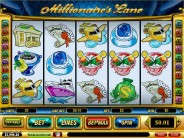 One of the most fun development in slots over the past five or so years has been the explosion in bonus game slots. When you line up the right symbols, you're taken to a new screen (or screens) where all sorts of action happens. Vegas Red knows about bonus slots and has at least twenty of these machines available at their site. Choose from the new Millionaires Lane (pictured here), Captain's Treasure or Desert Passage or many others for bonus action fun.
Slots are Loose Online!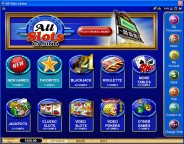 All Slots Casino has one of the largest collection of slots and some of the loosest slots on the web. Their selection is huge and with less overhead, employee costs and taxes than your typical brick and mortar casino, they can afford to give back a bigger percentages of bets back to the customer. Check it out!
Know what you are playing for: Slots have gotten more complicated over the years. This is a good thing, because now they are more entertaining. But with a multitude of lines to play and a myriad of symbols to decipher, it becomes essential that you understand what you are playing for. Read the pay table and all instructions posted on a machine. In many cases, you will need to press a help button to have the pay table displayed. If you don't understand everything correctly ask an attendant. It is your responsibility to know the rules concerning the number of coins to insert or lines needed to be activated in order to collect prizes. Should you line up the jackpot symbols without having met the requirements, you'll get a sympathetic pat on the back from the slot personnel, but no money.
Maximize your bankroll by joining a slot club:
Although you could make an argument that this is a slot strategy, it should really be a rule. Don't let the rewards of being a
slot club
member slip through your fingertips. A membership can turn a losing experience into a winning one.
Don't forget your slot club card: If you walk off and forget your slot club card in a machine, anyone else who plays that machine is racking up points for you. But hey, you may be playing at a higher level, so it's best to keep your card in your machine.
Don't forget to cash out: In my casino marketing days, I'd often find uncollected credits left behind by slot players. Management had drilled it into our heads that it was the casino's money, not our own personal stash, and we were instructed to play out these leftovers. Sometimes I would play for fifteen minutes just to get the credits down to zero. This could be fifteen more minutes of fun that you left behind.
Play at the denomination that allows you to make the right bets:
If you want to play maximum coin because the game has a
progressive jackpot
or a bonus tied to it, pick the coin value or denomination that allows you to do that. You don't want to leave the casino full of regrets.
Make sure you meet the age requirements: Don't get yourself in a position of having won a big jackpot and then not being able to collect because the casino staff thinks you are too young to gamble. It's always a good idea to have a picture ID with you when you are playing.
Hitting a jackpot: Don't pull the handle or push the spin button until the attendant or slot host has verified your win. Make sure your have your ID ready. Don't wander away from your machine. Remain vigilant.