With just a single pull of this 5-reel cash-themed video slot players have a chance to cash in a cool $1 million.
"Win a Million" is a recent slot addition to Go Casino's line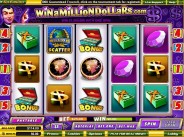 Win a Million Available at Go Casino! of 5-reel, 5-payline video slot machines. Players are able to bet in denominations from 1 cent to $5 and can spread the bet over 5 pay lines, making the maximum bet $25 for this machine. I stuck to 25 cent bets over 5 pay lines, so $1.25 bet per spin.
The machine's cash and riches theme is dominant with gold coins, money symbols, jewels, safes and dollar signs as line items. There is also a television host with slick black hair and microphone to guide you through the game. Overall the theme was fun and motivating to win some serious cash.
"Win a Million" also has a bonus round that can be triggered when three brief cases of cash line up in any of the five pay lines. The bonus level lines up nine brief cases and players are allowed to select three, each containing a cash prize. The three cash prizes are added up and provides the total cash bonus win. Luckily I was able to hit the bonus round twice, as the first time I only received a $1.25 total bonus. The second time I won a combined cash bonus of $46.50 which was much better than the disappointing first round.
The most exciting potential jackpot is the chance to win a million with a single pull. If five "Million Dollar Scatter" symbols line up on one of the pay lines then the maximum jackpot of a cool $1 million dollars is paid out. The $1 million jackpot is not part of Go Casino's progressive slot network, so it can be hit at any time and never drops below that level.
"Win a Million" uses software provided by Vegas Technologies, which has been providing stable, safe and legitimate gambling software to US players for years. They are one of few software providers that cater to the US market and ensure safe and reliable transactions with US players.
At the end of an hour's worth of game play I was able to walk away with a respectable 96% return. The second bonus round definitely helped to bump my return percentage up, bringing it to a level I rarely see in land-based casinos.
Bottom line - "Win a Million" is all about the big cash. Between the bonus rounds and chance at winning $1 million with one spin this is a "go big or go home" type of game. Have fun and with some luck walk away the next millionaire!

Go Casino is part of the family of casinos that includes Golden Casino and Online Vegas. These online casinos are very friendly to US players and provide easy deposits using major credit cards.