Roxy Palace Slots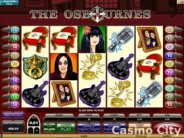 Roxy Palace has an astonishing variety of slot machines. At over 400 games, it should be enough to satisfy any slot fanatic. You can play as little as a penny per spin all the way up to $5 per line. Some of the outstanding video slot titles are The Dark Knight, The Osbournes and Thunderstruck. Popular classic slots include Captain Cash, Cosmic Cat, and Done Deal. With great variety, fantastic graphics, and innovative themes, Roxy Palace slots are a good thing.
Ronin slot now at Club USA Casino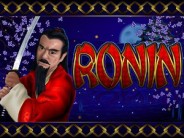 Travel through Japanese history and meet the legendary Ronin. If you are willing to help lend your skills in defending the ancient Japanese countryside, then Ronin will make sure you are richly rewarded with casino prizes.
'What's Your Sign' is one of the latest releases from Golden Casino's 5-reel, 12 pay line online slot machine products. The game's them is based upon astrology's zodiac signs, as each line item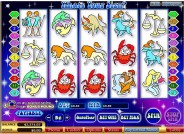 'What's Your Sign' online slot machine available at Golden Casino! represents one of the 12 symbols of the zodiac chart. The line item characters are pastel and cartoon-like, which are fun to play and try to match up based upon my birthday.
The game can be played as part of Golden Casino's safe, downloadable casino or instantly via no-download flash version. I played the instant flash version and found it very smooth with no flaws or glitches.
The betting increments for 'What's Your Sign' range from 1 cent to $10 with the ability to bet over all 12 pay lines, making the maximum bet for this machine a whopping $120. I stuck to 5 cents over 12 pay lines, for a total bet of 60 cents per spin.
'What's Your Sign' also has an exciting bonus round with great returns. When a player strikes 3 bonus line items on any pay line the bonus round is triggered. The player is taken to a separate bonus round screen and is presented with a large wheel with all the zodiac symbols spinning around. Simply click the 'stop spin' button and the player is presented with a bonus cash prize. The player can keep the cash prize or spin again, for a maximum of 3 spins. I stopped on my second spin with a cash prize total of $23.75.
I found one detail missing in 'What's Your Sign' that I typically see in other 5-reel machines; a wild card line item. This machine does not have any wild symbols which I always find provide an advantage when calculating returns on a machine based upon number of spins. This is relatively minor considering the bonus level is generous and the return calculated positive, however, I felt I would have been able to strike jackpots more often if wild card line items were part of the game.
Overall I was able to calculate a 102% return from 'What's Your Sign' so a positive return and cash in pocket. My two critiques would be to make the line items a little more detailed and add wild cards to the game, but otherwise a great game to play. Golden Casino accepts players from all over the world and welcomes US players.
Enjoy!
Golden Casino is an excellent online casino that is available to US players. Offering over 75 slot machines and numerous table games, there is casino action for all tastes.