Microgaming excels in making terrific video slots, games with interesting storylines, engaging characters and immersive gameplay. But it may come as a surprise that Microgaming also makes great video

There are occasions when we here at ReadyBetGo want to bring you interesting facts about the gambling industry When something catches our eye, we will publish it for your enjoyment.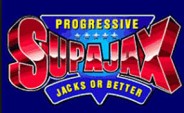 poker machines for online gambling. Video poker is an excellent alternative to regular slot machines, and both poker lovers and slot enthusiasts enjoy them equally. SupaJax is based on the Jacks or Better video poker game and doesn't represent much trouble for players who've played video poker before. It's a straightforward game with a few unique details that make it authentic and a true Microgaming gem. When you load the game, you'll see the background coloured in blue and the paytable explained above the playing area. A big yellow arrow shows the jackpot amount, and some of the controls are explained right off the bat. Let's do some Jacks or Better video poker! If you fancy playing Supajax – you can get 50 free spins at Trada Casino just for signing up and registering your details! Trada is home to all the Microgaming Progressives and they always have a bunch of decent promotions for new players.
Game Symbols
Since this is a video poker machine, we won't be talking about symbols in a conventional sense. As we all know, video poker machines don't have reels or images – they are played with a playing cards. SupaJax uses a standard deck of 52 cards, so you'll see virtual representations of playing cards from said deck. However, SupaJax comes with some alterations, because if it were a regular Jacks or Better game, it would be called simply Jacks or Better. The SupaJax from the title comes from a special additional SupaJax card. Unlike most video pokers, SupaJax doesn't feature a Wild card. Instead, it has a SupaJax card, but it doesn't act like a Wild. Even so, the SupaJax card contributes to impressive payouts. Although it doesn't help form regular winning combinations of cards, it completes the Progressive Four Jacks and SupaJax combinations.
Gameplay and Features
In base game, the Royal Flush is the highest possible accomplishment. Most video pokers pay out the jackpot for the Royal Flush, but not SupaJax. It takes a different combination to trigger the progressive prize in this game. Other than a Royal Flush, potential winning combinations are Straight Flush, Four of a Kind, Full House, Flush, Straight, Three of a Kind, Two Pairs and Jacks or Better. In general, SupaJax is played as a standard video poker where all hands, equal or better than a pair of Jacks bring the player a flattering cash reward.
The coin value is fixed and the player can bet from 1 to 5 coins in one round. Some of the strategic advices offered by seasoned video poker players include the suggestion to hold all cards if you've been dealt with SupaJax, Four of a Kind, Straight Flush, or Royal flush as well as to hold high card pairs, four card Straights, four card Flushes, four cards to a Royal Flush and so on.
SupaJax comes with a Gamble Bonus. This feature is activated every time a winning had is assembled. The player has the opportunity to accept the challenge and multiply his/her winnings by engaging in the 'Double or Nothing' bonus round. The point of the round is to pick a card out of four offered card that will be higher than the one the dealer is holding. In that case, the player's wins are doubled.
SupaJax Progressive Jackpot
To win the awesome SupaJax progressive jackpot cash prize (whose value you can monitor all throughout the game) you need to assemble a winning hand consisting of four Jacks and a SupaJax card. The other requirement is to bet the maximum 5 coins on that round. On average the SupaJax progressive pays out nearly £50,000 and the win happens roughly every 6 weeks. Once the jackpot is won, it resets to the minimum value, which is set at £5,000.
According to the developer, the house edge for the SupaJax online video poker machine is 9.57%, and that value is slightly lower for 1-4 coins wins. Right below the progressive jackpot is the Royal Flush which pays out 3,000 coins when you have the max bet activated. In all other cases, the payout for the same hand is 250 coins.
Obviously, SupaJax is not your average game of Jacks or Better. The addition of the special SupaJax card and the omission of the regular Wild card shake things up a bit. The way to win the jackpot is also changed here, so instead of trying desperately to assemble a Royal Flush for the jackpot all you need to do is make sure you've wagered 5 coins and then collect 4 Jacks + SupaJax. Congrats, you've won the jackpot!