Free Slot Tournaments Going on Now at Roxy Palace!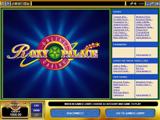 Roxy Palace has slot tournaments 24 hours a day with guaranteed freerolls and free buy-ins. There's a huge variety of types of tourneys to enjoy. Sign up now, join the fun and win some cash!
Aladdin's Wishes available at Club USA Casino!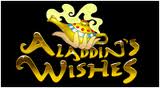 Follow Aladdin and have your wishes fulfilled. Along with his trusty lamp and genie, lucky symbols such as sword and palace will bring jackpots and extra spins.
'Piñata Fiesta' is the latest 3-reel, one pay line, online slot machine released by Go Casino, part of the Vegas Technologies network. The machine has a fun Mexican-themed interface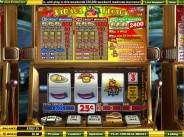 Play Pinata Fiesta at Go Casino! with sombreros, chili peppers, piñatas and tequila bottles at line items.
The controls are extremely simple as there is only one pay line and a maximum bet of 3 coins. All players have to do is select the betting denominations and let the reels spin. There are also wild line items that help significantly in the payout return for this machine.
Betting denominations range from 10 Cents to $10, with a 3-coin maximum, making the max bet for this position $30 per spin. The benefit of playing multiple coins is that the machine will multiply the pay out by the number of coins played. I stuck with 10 Cent denominations with 3 coins per play, so a total bet of 30 cents per spin.
'Piñata Fiesta' also has a bonus round that is struck when either:
A- Two bonus piñatas line up on the pay line or;
B- One bonus piñata and two regular piñata line items line up on the pay line.
The bonus round is fun, however, the graphics are a little silly and the bonus prizes are not as big as I have seen in the 5-reel bonus slot machines. The player is presented with 3 characters; a Matador, a Child and a Woman. The player selects one of the characters and they strike the piñata with a stick. Nine pieces of candy fall to the ground and the player is able to select one piece of candy, revealing a cash prize. The player can then decide to take the cash prize or trade for another, with a maximum of 3 trades. I stuck with my second bonus prize for a grand cash bonus of $42.50.
In general 'Piñata Fiesta' is a fun and appropriate game going into the spring and Cinco De Mayo season. I found the game play very simple, which did not keep me entertained for hours on end but great for players that are new to slots and want to understand how much they are betting and how they can win.
At the end I calculated an almost 98% return rate and I'm sure if I had played longer I would have struck a second bonus round to get a positive return. The game play was just too simple to keep me engaged for that long.
Safe, simple and great theme going into spring. Enjoy!
Go Casino is part of the family of casinos that includes Golden Casino and Online Vegas. These online casinos are very friendly to US players and provide easy deposits using major credit cards.