Get into the spirit of March Madness with one of the latest additions to Go Casino's 5-reel slot machine product lines. 'Money Shot' is a basketball themed video slot with exciting line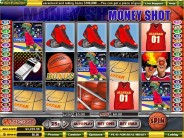 items including cheerleaders, basketballs, courts, jerseys, and mascots. Some of the line items include animated basketballs and dancing cheerleaders to add to the excitement.
'Money Shot' is based on Go Casino's 5-reel, 20 pay line platform with betting increments of 1 cent to $10. With the maximum increment of $10 over 20 pay lines the maximum bet is an amazing $200. I of course was not ready to put $200 down per spin, so I kept my bet to 25 cent increments spread over the 20 pay lines (so a total of $5.00 per spin).
'Money Shot' also includes wild symbols which I found to be a major winning element for this game. I hit many $35, $45, and $50 pay-outs simply because the wild symbol hit on the correct pay line. Without the wild symbols my return would have been much less.
Another great aspect of 'Money Shot' is the free-throw hoops shoot bonus round. When the bonus basketball line item appears on 2 reels, or on the 2 and 4 pay lines, the bonus round strikes. The bonus round was fun; you are placed at the half-court line with 8 hoops presented in front of you. You are able to pick three hoops to shoot at, each with a cash prize. I was able to get $10.50, $15.00 and $30.00 from the hoops I selected. The best part is that the bonus is multiplied by the number of pay lines crossing through the hoops. In this case I had 3 pay lines going through the bonus hoops bringing my total cash bonus to $166.50.
Between the wild-card pay lines and the bonus level I was able to get a 106.5% return from 'Money Shot.' With this game it seems the key is to stick with consistent spins over all pay lines until you hit larger payouts. There are plenty of spins with no returns, but then when the machine strikes the payouts are large. The bonus round also greatly increased my return so it is worth playing until struck.
'Money Shot' is definitely be a game I will continue to play in the future. Not just because of the positive return, but also the exciting basketball them and large lump payouts that make the game constantly exciting.

Go Casino is part of the family of casinos that includes Golden Casino and Online Vegas. These online casinos are very friendly to US players and provide easy deposits using major credit cards.