Rudolph wants revenge with this Christmas slot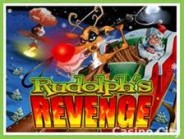 Rudolph the Reindeer is angry and wants to take revenge on Santa for being called "red-nosed." He's ready with a baseball bat and conspires to gift a bomb to Santa. Hey, I don't make these things up...No matter whose side you take, the slot promises many rewards and prizes including a nice jackpot. Rudolph's Revenge is a five reel and 50 payline slot game based on this sub-plot revolving around Christmas.
Get into the St. Patrick's Day Spirit with Go Casino's latest slot release "Luck of the Irish." This 3-reel, 1 pay line slot is sure to get you into March spirits and ready for spring.
The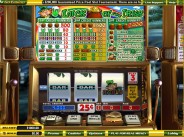 "Luck of the Irish" slot available at Go Casino! slot machine interface is amazingly real to its land-based casino counterpart. The front of the machine has a 3-D casino floor feel with standard betting buttons and pay scale displayed at the top. It even has an "insert bill here" slot just like land based games. I also enjoyed casino floor background as it gave the feel of playing in a real casino, something that many online slot machines fall short of.
The line items are colorful and fun and include pots of gold, four-leaf clovers and standard bar lines with many rainbows and leprechauns displayed around the machine housing.
Betting on "Luck of the Irish" is simple; bets can range from 10 Cents to $300 and there is only one pay line. The twist is you can bet one, two or three coins at a time. Your return is greater playing three coins at a time than one, and allows you to unlock cash bonus levels. I found it wise to reduce my bet by 1/3 (25 cent bets) and play 3 coins at a time. My return was greater and I was able to unlock the bonus level.
The bonus level appears above the reels on the payout table. Nine dancing Leprechauns appear and you can select one. A cash prize is given and the player is prompted to accept the prize or trade for another. With my first prize being only $2.50, I decided to trade. Good decision as I ended up with at $45.00 bonus prize from a 25 cent bet. You can only trade two times, so make your selection carefully.
While keeping my bets to 25 cents and playing for almost an hour I was able to keep a respectable 93% return, which is better than most land-based casino machines. The machine's software is developed by Vegas Technologies, a well known and trusted software provider in the world of online gambling. They are also one of few developers that are still accepting US players and have done so since the beginning.
"Luck of the Irish" is a fun, simple game that has the true look and feel of a land-based slot machine while still enjoying the comfort of my home. I also found the 93% return much better than land based machines and the bonus level was easy to achieve. Enjoy!

Go Casino is part of the family of casinos that includes Golden Casino and Online Vegas. These online casinos are very friendly to US players and provide easy deposits using major credit cards.