Slot machines have been around for more than a century by now, and over these years, they have evolved a great deal. The first slot machines had three rows, a handful of symbols, and just one win line.

There are occasions when we here at ReadyBetGo want to bring you interesting facts about the gambling industry When something catches our eye, we will publish it for your enjoyment.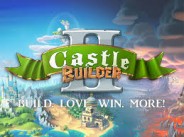 Today, in turn, they are much more complex. The games you'll find at
https://ca.royalvegascasino.com
have at least five reels (there are quite a few of them with a "retro" setup, with three reels), at least nine win lines, and symbols anywhere between 10 and 20. Besides, most Royal Vegas slots come with side games and bonus features assuring not only a lot of extra fun but also big wins (sometimes million-dollar jackpots) for their players.
Castle Builder II, an upcoming Royal Vegas game, takes the evolution of slot machines one step further. It takes the best of two worlds - social games and casino games, that is - and combines them in a unique way, resulting in a game that's one of a kind. It has everything online casino players had to make do without to this day: achievements, experience, and true progression throughout the game.
Castle Builder II has a simple backstory - it's a game where you build castles. Players can take over one of the three builder profiles, each one with their own perks (two of them are initially unlocked): Sam is an experienced old timer that builds sturdy castles quickly and easily, while Mandy is a Nordic beauty with less experience but a lot of enthusiasm, and the added benefit of free spins. The third builder, a stern, war-weary stranger, is initially not available - he has to be unlocked by progressing through the game.
Once the player chooses a character to play with the game proceeds to the building process itself. Players are presented with the map of the realm, where they can choose in which kingdom they will proceed to build (initially, there is just one available kingdom, with more unlocked as further projects are completed) and choose a castle to build. The process is simple: through playing a slot machine. The reels of the machine are filled with symbols like rings, crowns, treasure chests, and other similar symbols, along with the four types of materials needed to build the castle: stone, metal, wood, and brick. Three such symbols mean one unit of materials, four of these mean two, and five of them mean three of them are added to the rack on the left. When a rack of six is filled, it's added to the castle, finishing another phase of the project. And when the castle is complete, the king's offspring moves in, the suitors arrive, and they reward the player for a job well done.
Castle Builder II was released as an exclusive title for the Austrian Lottery early this year. The game will be released at the Royal Vegas Casino and all other Microgaming-powered online gambling outlets sometime in the second half of 2017.