Aladdin's Lamp $1 progressive joins the group of popular slots with an Arabian Nights theme. In case your mother never read you these tales, Queen Scheherazade told a different story to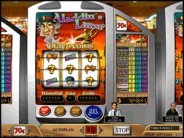 Boss Media's Aladdin's Lamp Progressive Slot
her husband to delay her execution, each with a cliff-hanger ending to ensure she would live another day. The story of Aladdin and his magic lamp was one of these legendary stories.
The cliff-hanger here is spin-by-spin with the big payoff coming when the lucky player has three coins-in and lands three smiling face of Aladdin in a row. Other winning symbols on this
progressive slot
include flying carpets, red diamonds, lucky sevens, and bar symbols.
The layout of Aladdin's Lamp is veritical which gives appearance of a large slot. It comes in other denominations, so you can choose which version best fits your budget.