LAS VEGAS, Nevada -- The first-ever World Series of Slots™ tournament, held in April at the Golden Nugget Hotel & Casino, welcomed 280 competitors battling head-to-head through eight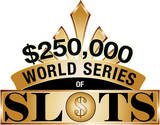 exciting rounds, and gave away a total of $262,000 in prize money.
San Diego resident Michele Leone walked away with the $100,000 grand prize and championship bracelet for her slot victory, followed by Vera Panjanon-Wolf in second place with $15,000, Arsenio Mata in third place winning $10,000 and Lien Phan rounding out the top four with $8,000 in prize money.
Leone said that she and her husband had not really thought about what they will spend the money on, only to say they "were going to relax, let the shock wear off and then make plans." Mr. Leone added that throughout the competition, he thought he was much more nervous than his wife, almost wearing the skin off his hands due to clenching his fists so much.
A guest of the hotel, Leone came to Las Vegas just for the World Series of Slots™ tournament. She said she was "intrigued by the one-on-one competition." So were many, based on the larger-than expected attendance at the event.
"A World Series of Slots™ has never been done before, and players from all over loved the head-to-head challenge," said Tilman Fertitta, chief executive officer, Golden Nugget. "This event was a huge success that we're sure to repeat in the future."
In addition to the big-money top prizes, players not advancing past the first round were eligible for a special $10,000 Bonus Tournament, where each guest played one 20-minute session. Robert Aiu, of Hawaii, won the $10,000 winner-take-all prize pool by hitting triple red sevens in the last five seconds of play, moving his score to the top for the bonus win.
Cash prizes were awarded for advancing through each round. Participants won $500 for advancing to round two, then an additional $150 for each round, thereafter. Players not advancing to round two received $200, as well as the entry into the bonus tournament. The top four winners received all round-advance winnings plus an additional $8,000 for fourth place, $10,000 for third place, $15,000 for second place and $100,000 for the Grand Prize winner, plus the championship bracelet.
Golden Nugget
129 E. Fremont Street
Las Vegas, NV 89101
Phone: (702) 385-7111
Toll Free Phone: (800) 846-5336
Website: www.goldennugget.com

The Golden Nugget offer 1,309 slot and video poker machines including the ever-popular favorites: Wheel of Fortune, Elvis, Jeopardy, and MegaBucks. The casino also offers excellent table action including beginners lessons.