A recently published study in the International Journal of Contemporary Hospitality Management has found that the typical slot machine player is likely to be a woman motivated either by the excitement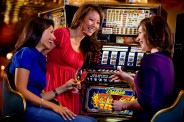 Women have different motivations for playing slots than men.
that comes with winning a prize, the opportunity to kill time, or the desire to reduce boredom and get out of the house. She is usually a married woman between 55 and 60 years old with some college education and an annual household income of more than $55,000, according to the study.
Basing its conclusions on surveys of about 1,000 subscribers to Strictly Slots magazine, the study is among the first to look specifically at what motivates people to play slot machines, say researchers, including co-author Sandy Chen, an assistant professor at Oregon State University's College of Business.
Because the casino industry depends on slot machines, making more money on them than table games, knowing the motivation behind why people play them is important, researchers say. In Atlantic City, slot machines made up 71 percent of total wins in October. In Pennsylvania, it's 81 percent, according to the latest regulatory filings.
More than 40 percent of those who responded to the survey said they play the traditional reel slot machines, while nearly 60 percent said they most often play video slots, which simulate the spinning of the reel. Most of those surveyed said they spend at least an hour and at most six hours playing their favorite game.
Four groups of slot machine gamblers were identified in the study. The first is a "utilitarian gambler" who is looking for something to do with his or her time. A second is the "excitement gambler" looking for a buzz — typically from machines that pay off frequently even if the payouts are small.
A third is the "multipurpose gambler" who tends to be younger, with less income and motivated to have fun and win money. The fourth is the "relaxation gambler," who tends to be the most educated and well-to-do player looking to socialize, have fun and relieve stress.
Men and women were motivated to play for different reasons, according to the study. Women tended to be utilitarian and excitement gamblers, while men tended to be multipurpose and relaxation gamblers.