GEYSERVILLE, California -- For many local players, the fabled pot of gold could be found at River Rock Casino where slot payouts totaled almost $215,000.
Several players won $25,000 jackpots while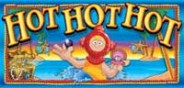 The Hot Hot Hot Slot warmed up nicely for slot players at River Rock Casino. playing slot machines at River Rock, beginning with Annette Gridley on February 28. A bookkeeper from Santa Rosa, CA, Gridley can count her own cash after her Quick Hits win. On March 10, Pascal Finnerty of San Francisco, CA, and Molly Wirtz of Santa Rosa, CA, each won a "pot of gold" after winning $25,000 jackpots playing 24 Karat machines. The win is worth more than any precious metal to Wirtz, who will use her winnings to help her son pay for a liver transplant.
Two other players were close behind with $20,000 wins. On February 21, Vivian Reed of Oakland, CA, won playing a Triple Sapphires machine, followed on March 4 by Patrice Graham of Santa Rosa, CA, who won playing a Hot Hot Hot slot machine.
On February 26, Juan Ochoa won $16,000 playing a Double Diamond machine, and on March 2, Dave Wilson of Napa, CA, had a similar win with a $15,000 Red, White and Blue jackpot. Two lucky Santa Rosa, CA, players cleared $12,000; on February 26, Terry Kennedy won $12,500 playing a Double Spin 5 Times Pay machine, and Paula Cecic-Karuzic won $12,016 playing a Triple Lucky 7's slot machine.
On March 2, regular winner Anthony Young of Santa Rosa, CA, kicked off the $10,000 jackpots with his Quick Hit Progressive win, followed on March 4 by Emma Scruggs of Rodeo, CA, and Jackie Elliott, who also won $10,000 jackpots.
Stephanie Lobato won on February 25. The Richmond, CA, resident will use her $6,795 Triple Double Stars jackpot for spring training in Arizona. On March 5, Anthony Young of Santa Rosa, CA, won his second Quick Hits jackpot in 3 days, winning $6,275. On March 2, Cherie Green of Petaluma, CA, won $5,963 playing a Blazing Double 7's machine, preceded on February 21 by Paul Dunbar who won a $5,285 Triple Red Hot 7's jackpot.
Three local players won $5,000 jackpots: Kathryn Stewart of Petaluma, CA, on February 21 playing a Triple Ruby 7's machine; Pureza Cardona of Santa Rosa, CA, playing a Quick Hit machine; and Carlos Gonzalez on March 11 playing a Hot Hot Hot slot machine.
River Rock Casino is just North of Healdsburg on Hwy 101. Take the Geyserville exit to the Dry Creek Rancheria.
River Rock Casino is an enterprise of the Dry Creek Rancheria Band of Pomo Indians.
River Rock Casino
3250 Highway 128
Geyserville, CA 95441
Phone: (707) 857-2777
Website: www.riverrockcasino.com

River Rock Casino offers 1600 state-of-the-art slot machines, including video poker, progressives, and many more of your favorite machines. There are also 16 tables featuring Pai Gow Poker, Three Card Poker and Blackjack; offering the most liberal rules in the area.