PALM SPRINGS, California -- There's nothing better than winning a big jackpot, unless of course, your spouse wins an even bigger one. That's exactly what happened to David and Barbara, who took home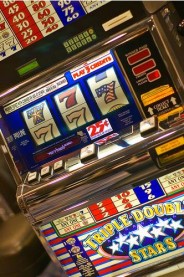 more than $155,000 in one week's time at Spa Resort Casino in Palm Springs.
David, owner of a custom cabinetry company, was the first to win big. As his wife Barbara bounced from slot to slot, looking for a lucky machine, David hit a $72,005.00 jackpot on video poker. Little did they know their lucky streak had just begun.
Exactly one week later, Barbara, a retired hair dresser, won $83,848.40 on a nickel slot machine. "When it hit, I just went totally numb!" Barbara said. "I couldn't talk, I couldn't move, I could do anything! I was in shock!"
David and Barbara have a home in Grand Terrace and usually spend their weekends at their condo in Palm Springs, just a short distance from Spa Resort Casino. "We used to take trips to Vegas, but we have more fun here," David said. "We're close to home, there's good restaurants, good music and of course great weather!"
This winning husband and wife combination are originally from Los Angeles and San Bernardino, respectively. They met while David was playing the saxophone in a rock band and have been married for 41 years. Together, they have 6 children, 15 grandchildren, and 7 great grandchildren, with one more on the way.
David and Barbara say part of their winnings will go toward renting two large beach houses in San Juan Capistrano this May, so they can have a huge family get together.
Spa Resort Casino
401 East Amado Road
Palm Springs, CA
Toll Free Phone: (888) 999-1995
Website: www.sparesortcasino.com

The Spa Resort Casino features over 1,000 slot machines and 30 table games including blackjack, 3 card poker, 4 card poker and Pai Gow Poker.