FLORIDA – As reported by the Miami Herald: "…Since the casinos opened in recent weeks, slot machines have brought big crowds to Gulfstream and the old Hollywood Greyhound Track, which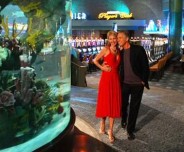 Gulfstream Park Casino adds more slots! has been refashioned into a Mardi Gras-themed slots casino with little reference to the greyhounds on the outdoor track.
"The new visitors have created something of a culture clash at Gulfstream, where the regulars who put a lot of research into their bets see the slot machine players as mindless gamblers, intent on a solitary activity.
"…Even as he and other regulars waited -- racing forms in hand -- for the first horses to parade around the paddock last week, a bus dropped off 114 seniors from Margate. With walkers, canes and comfortable shoes, they stood in line to process their memberships in the casino's rewards club, the Good Luck Player's Club.
"…Sometimes, slots are just a way to pass an enjoyable day, said Peggy Blair, 80, who spends about two months each year in Hollywood.
"…Outside, speakers blare the starting horn for the post parade. As horses approach the finish line, bettors crowd toward the front of the grandstand, cheering on their favorites: `Run, sweetheart, run!'
"…Racetrack veterans like [Malvern] Burroughs love their horses, but they don't want to come across as snobs. They see slot machines as the only way to attract the younger gamblers who see horse racing as their grandfather's game.
"…Even with the new emphasis on slots, though, Gulfstream is serious about horses…"
Gulfstream Park Racing and Casino
901 South Federal Highway
Hallandale, FL 33009
Phone: (954) 454-7000
Toll Free Phone: (800) 771-TURF
Website: www.gulfstreampark.com

The Casino at Gulfstream Park Racing and Casino is where the action is authentic and offers 516 slot machines as well as poker. You can also grab a bite at the New York-style deli Pearls. The casino is open Sun-Thu, 9am-1am; Fri-Sat, 11am-3am.
Mardi Gras Racetrack and Gaming Center
831 North Federal Highway
Hallandale Beach, FL 33009-2410
Website: www.playmardigras.com