Club USA Casino Has Great Slots!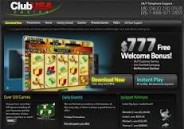 In addition to a wide selection of slots games, Club USA Casino features poker, blackjack, baccarat, keno, craps, roulette and progressives jackpots. Newly released slots include Coyote Cash, Funky Monkey, Enchanted Garden, Jackpot Cleopatra's Gold, Monster Mayhem, Realm of Riches, and Ronin Play any of the Video Slots plus Keno and Scratch Cards and receive a 100% bonus up to $777, using coupon code: BIGSLOT. And the best news is the casino accepts US players and the deposits are easy to make.
CHESTER, Pennsylvania – As reported by KYW-TV CBS:"A casino glitch at a Philadelphia-area slot parlor had some gamblers seeing red on Monday.
"They were frustrated when computer troubles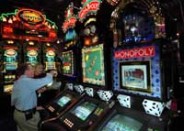 at the brand new Harrah's casino kept them from cashing in, at least right away.
"…The glitch happened while the casino was rebooting its system. Customers say about 60 percent of the machines went down while people were playing and that the frozen machines would not allow any payouts.
"…Some customers left without their money, while others took their chances and waited things out.
"Dina Parenti stayed two hours for her payout of $20.
"'Fights broke out, people were banging the machines, getting really mad,' said Parenti.
"…Others waited even longer. A reporter from KYW-TV spoke on the phone to a woman who refused to leave her slot machine for more than four hours.
"'If they close, they will have to throw me out, I will fight I want my $58 and I will never come back,' said Thomasine McLucas.
"Harrah's did release a statement saying even though the machines froze; the casino was still able to capture all the activity on them.
"They also said that all jackpots will be verified and paid out.
Harrah's Chester Casino & Racetrack
35 East 5th Street
Chester, PA 19013
Website: www.harrahs.com

Harrah's Chester features a 5/8-mile harness racetrack with a 1,500-seat outdoor grandstand a state-of-the-art indoor wagering area. A 20,000-square-foot outdoor deck offers patrons a sweeping panoramic view of the Delaware River and a bird's-eye view of the horses as they charge down the homestretch. The casino features over 2,700 slot machines.