INDIANA – As reported by the Evansville Courier-Press: "Improvements under way at Casino Aztar - some subtle, some showy - are intended to position the Evansville riverboat casino against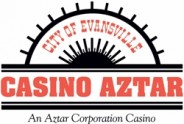 Casino Aztar is to be sold to Eldorado Casinos out of Reno, NV. impending competition from a new casino at French Lick, Ind., and elsewhere.
"'We have new competition coming on line, and we need to remain competitive,' said Jim Brown, president and general manager of Casino Aztar.
"The latest additions to the mix of games on the riverboat's gaming floor are penny slot machines. Players can wager as little as 1 cent, up to several dollars, per pull (though they cash out using a ticket.)
"…Construction is progressing on the $40 million entertainment complex - called 'The District at Casino Aztar' - that will have the first of a series of grand openings next month.
"…Last year, Casino Aztar announced a second phase of its expansion-improvement project for 2007, to include a dining and entertainment venue. The second phase plans, however, are on hold for now while Aztar's new owner, Columbia Sussex Corp. of Fort Mitchell, Ky., reviews them…"
Tropicana Casinos and Resorts, Inc.
207 Grandview Drive
Fort Mitchell, KY 41017
Phone: (859) 578-1100
Fax: (859) 578-1154
Website: www.tropicanacasinos.com

Formerly Columbia Sussex, Tropicana Casinos and Resorts owns the Tropicana in Las Vegas, two properties in Lake Tahoe, Nevada and a number in Louisiana and Mississippi.
Casino Aztar
421 NW Riverside Drive
Evansville, IN 47708
Phone: (812) 433-4400
Website: www.casinoaztar.com

Peacock Magic, Shore Thing, Arabian Nights, Diamond Eyes, Asian Princess, Golden Goose, Fort Knox and other popular penny slots are on the slot floor of Casino Aztar. The casino also has blackjack, poker, craps, roulette and more table games.