INDIANA – As reported by the Louisville Courier-Journal: "The Caesars Indiana casino lost nearly half a million dollars over two-days last month on one slot machine that had been incorrectly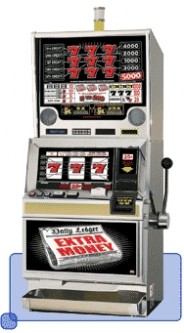 Caesars casino patrons got more from 'Extra Money' than they should have. set to give players credit for 10 times the amount of money they put into it.
"Caesars and Indiana Gaming Commission officials say the machine — named Extra Money — paid out $487,000 over the July 21 weekend before an honest gambler from Louisville brought the problem to their attention.
"The commission is investigating the matter and might penalize Caesars for failing to follow procedures designed to prevent such a problem, said Jennifer Arnold, its deputy director.
"But so far, at least, there's no indication that criminal behavior was involved, according to casino management and the Indiana State Police.
"…Caesars, meanwhile, plans to try to get back its money…"
Caesars Indiana
11999 Avenue of Emperors
Elizabeth, IN 47117
Toll Free Phone: (877) 237-6626
Website: www.caesars.com/Caesars/Indiana

Voted one of the Best Casino Hotels by CitySearch.com and MSN, Caesars Indiana also offers world-class gaming action for every level of player, with over 130 gaming tables and 2000 slot machines.