Roxy Palace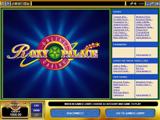 Roxy Palace features plenty of user friendly games with realistic design and crisp, exciting play. The casino has more than 100 slots including 3-reels and 5-reels with multiple paylines, as well as bonus feature slots. There are lots of video poker games. Table games include Blackjack, Roulette, Craps, Baccarat, Let Them Ride, Tri-Card Poker, and Casino Hold 'em.

Winning a Jackpot is Bad Luck?
Tuesday, September 14, 2010
CAPE TOWN, South Africa -- JackpotCity found itself in the unusual position of trying to convince a player to accept his winnings after the player won GBP4,444 on an online slots game.

The player Mr C, of Chinese origin, won the jackpot on WowPot, was initially delighted to win the sum but later became concerned that the amount won was inauspicious and a portentous signifier of death.

Terry Maverick, the spokes person for Jackpot City had this to say:

"The player contacted our customer services department, quite concerned about the winning amount. He was obviously keen not to lose out on the money, but at the same time wary of bringing bad luck on himself or his family. It is a first for us, where a player refuses to accept the cheque for their winnings. According to Chinese culture the number 4 is pronounced like the word for death and is considered as a very unlucky number. We're still talking to the player and working out the best approach to handle this, which is sensitive to the player's beliefs and concerns, but ensures that he does not lose out on his winnings."

Gamblers are notoriously superstitious and fiction is littered with stories of lottery winners, who subsequently suffer from bad luck, but this is believed to be the first real life instance of a player refusing their winnings.