Bonus for Interpoker Accounts!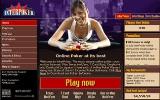 InterPoker makes new account sign-ups a breeze. They'll also give a 50% bonus worth up to $200 for all new players. With odds like that, what have you got to lose? InterPoker also has some of the best poker action on the Net, and offers a wide range of table limits and games.
Poker Stars

Poker Stars has reopened for most of the world, but not yet in the United States. It is endorsed by professionals like
Daniel Negreanu
and Chris Moneymaker. The site offers Texas Hold'em, Omaha, Omaha 8/b, 7 Card Stud, 7 Card Stud 8/b, Crazy Pineapple, Crazy Pineapple 8/b, Triple Draw, Royal Hold'em. Table limits range from penny games up to $300-600. The competition leans to the more challenging end of the spectrum.

888poker Official site
888poker offers the widest assortment of exciting online poker games you will ever find in the internet. Choose from Texas Hold'em, Omaha, and other online poker variants from the nifty poker software and enjoy pure poker gaming from home.
Ah, the art of the bluff. The bluff-call, the semi-bluff, the stone-cold bluff and every other term that each individual player may use to describe a bluffing situation. Try and learn how to bluff

Mike Greenberg is a dedicated poker player who always tries to improve his game. He operates the poker site Toptexasholdem.com where you can find his educating articles and thoughts on poker strategy. Mike Greenberg shows that you don't have to be the best player in the world to make a profit from poker. If you stick to the basics and play solid poker, you can beat the games at reasonably high limits. Michael's website is www.toptexasholdem.com by doing an Internet search, and it is a fast-track to an instant headache; so many opinions, some good, some bad, some confusing. Yet all seem to be of the mindset that being able to bluff is an important skill necessary to be a great poker player. If it were the early 90s I might offer a, "Well, duh," but being that we now live in a sophisticated 21st century world society, I'll simply agree by saying, "That is correct." A big bluff is just as the name would suggest; the stakes are higher and the bets are bigger, and in no-limit action, a true bluff (when holding nothing and working on nothing) takes nerves of steel because it can get out of hand quickly with raises and calls.

Running big bluffs in No-Limit Texas Holdem is based on the fact that you believe your opponents will fold based on your willingness to bet big. Now, it would seem to fit in the category of common sense, that in order for an opponent to believe you've got the goods, you will have needed to show them at one point or another. If you've yet to build a good hand, you may be setting yourself up for your own demise. Thus, one of the most important aspects of running big bluffs is to have a bluffing strategy and to know your opponents; it's worth repeating: Know your opponents. You can adjust texas holdem strategy as necessary and based on new reads and new opponents, but you can't get lost at a table looking to use a bluff as an act of desperation.

Playing a tight and aggressive style will lead your opponents to believe that you play when you've got the goods and leave the action to the other players when you have nothing. In this case, you can bet consistently pre-flop, or get aggressive, sending the message to your opponents. If you've got nothing, you must deliver an Oscar worthy performance; subtle and understated - just as if you were working high, suited connectors. As is likely, someone else will want to see the flop, and here's where things can get very interesting. If you're working a semi-bluff, perhaps you've enjoyed some help from the draw, but in the stone-cold situation you are no longer playing your cards, you're playing your opponent. If you don't have a good read it's best to get out before too much damage is done. If you're late in the order and they check, it would be a good time to test the water. If you raise and they re-raise, you're going to want to see the turn, or your bluff will likely be exposed.

Again, play your opponent when running a big bluff. Knowing your opponent is the key.