Poker games, both live and online, run around the clock in card rooms and online sites across the world. It's always possible to jump into a tournament or cash game and get started straight away.

There are occasions when we here at ReadyBetGo want to bring you interesting facts about the gambling industry When something catches our eye, we will publish it for your enjoyment.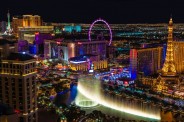 But when it comes to prestige and prize money, nothing beats annual poker series events.
Poker series' are scheduled events that often run for several weeks and offer a packed schedule of tournaments to play across multiple buy-in levels. Here, we take a look at some upcoming series that are sure to tantalize aspiring and accomplished players alike.
World Series of Poker (WSOP)
If you play poker, then you'll have no doubt already heard of the World Series of Poker (WSOP). It's the biggest, most popular, and most prestigious live poker series in existence, with a history spanning 75 years.
This year will be the 54th annual edition and, if previous iterations are anything to go off, it's set to be one of the biggest and best ever.
The 2022 version saw 197,626 entries from more than 100 countries and paid out prize money that totalled $347.9 million.
This year, the WSOP returns to its original venue at the Horseshoe in Las Vegas. There will be 608 tables and cash games running 24/7, making this the biggest capacity series yet.
It will also have the largest schedule of bracelet events ever and the first ever $300 entry tournament.
The $10,000 Main Event is the biggest draw. Last year, the tournament attracted 8,663 entries, making it the second biggest live poker event in history. This year, the organisers are aiming to break records and make it even bigger.
The WSOP is high up on every poker player's wishlist, both to play and to win. A WSOP bracelet is one of the most well-regarded trophies out there and top ranked players will be on the floor looking for the victory.
This year's WSOP runs from May 30th to July 18th.
Super Millions Poker Open
Moving to the online realm now, the Super Millions Poker Open runs on Bodog and has $8 million in guaranteed prizes spread across dozens of online poker tournaments.
The 2023 schedule is yet to be released, but in 2022 there were 150 events, including the Main Event which offered $322,000 in prizes. Players can expect similar numbers this year.
The series is accessible when it comes to buy-ins. For those who don't want to buy in directly, qualifiers are running before and throughout the series, with buy-ins for those starting from as little as $1.
The Super Millions Poker Open runs from the end of July to August. It's not the only series on offer from Bodog. Later in the year, running in October and November, is the Golden Spade Poker Open, which offers $10 million in guaranteed prizes. The site also has poker games running around the clock, so players can brush up on playing their poker hands and learning more strategy.
World Championship of Online Poker (WCOOP)
The World Championship of Online Poker (WCOOP) has a twenty-year history, making it one of the longest running poker series in the online poker world.
Last year was the 20th anniversary. It featured 367 events and paid out $108 million in total prizes. Winners also get a WCOOP trophy, another prestigious accolade for players.
The series usually runs in September. The 2023 schedule is yet to be released, but you can expect hundreds of tournaments and millions more in prizes.
Each event is broken down into three tiers, low, medium and high. Buy-ins start from $5.50 and run all the way up to $25,000, so there's something for all bankroll levels. Satellites and qualifiers are also offered, including freerolls, so those who don't want to buy in directly can gain lower cost entry.
If you can't wait for WCOOP, the Spring Championship of Online Poker (SCOOP) is running throughout May. It has guaranteed prizes totalling $75 million. The three Main Events have combined guarantees of $11 million.
Preparing for a major poker series
Playing in a major poker series is just like playing a regular tournament, apart from you can expect the fields to be much bigger. As such, you can play your usual game and see how it goes.
You'll technically have less chance of winning per game, as there will be more players to get through, but this is balanced by the huge prizes on offer for those who do make it far.
As always, remember to play within your bankroll, not just for individual games but across the whole series. With dozens or hundreds of tournaments running, you may have to pick and choose which games to get involved with over the series.
Most of all, whether playing online or live, remember to enjoy the events for what they are; a celebration of the poker world and all it has to offer.