Phil Gordon's Little Blue Book
by Phil Gordon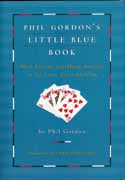 Valuable sections include Cash Games AND Tournament Play; Sit and Gos; Satellites and Supersatellites. Nicely illustrated with many lessons, examples and analysis, it's a balanced, smooth-reading textbook, some of which is based on the author's experience. This balance of common sense, strategies, ploys and an honest appraisal of what was going through his mind when he made his moves adds strength to this powerful, positive pack of lessons. One unique approach is to 'improve at poker is not by finding answers. It is by finding questions,' says champion Chris Ferguson in the foreward. This companion book to Gordon's Little Green Book does just that.
Read a review of Phil Gordon's Little Blue Book

Poker Stars
Endorsed by professionals like Chris Moneymaker and Daniel Negreanu, Poker Stars is the most popular poker room in the world. The site also provide poker strategy and continues to support US players.
Growing your bankroll is the most important part of playing poker. Sure, poker is a fun game of incomplete information, psychoanalysis and deception, but the main objective of any poker player is to

Mike Greenberg is a dedicated poker player who always tries to improve his game. He operates the poker site Toptexasholdem.com where you can find his educating articles and thoughts on poker strategy. Mike Greenberg shows that you don't have to be the best player in the world to make a profit from poker. If you stick to the basics and play solid poker, you can beat the games at reasonably high limits. Michael's website is www.toptexasholdem.com make money. Here are some bankroll considerations to keep in mind when you play poker tournaments.
Keep Records
If you play poker all the time, then you need to keep track of your wins and losses. It's a mandatory, unavoidable must, and as important as knowing the texas holdem rules. Well-organized records will allow you to analyze your game. You can monitor your performances and recalibrate your strategies based on your success record over a specific period of time. Having ballpark figures is one thing, but if you want to know exactly how much money you won or lost last month, good record keeping is essential. Records help you make real assessments about your playing habits and financial commitments. Closely monitoring your bankroll will also help out big time if you have to pay taxes on your winnings.
Poker Tournaments Can Limit Your Loses
If you love cash games; Texas holdem, Omaha or whatever game you might play, then you know that the only way to break out of a cash game is to bust your bankroll. As long as you have funds, you're always in the game. With the exception of re-buys, poker tournaments don't work this way. Poker tournaments have a buy-in. When you lose a tournament, all you lose is this buy-in. If you're the type of player that has little to no discipline when it comes to re-entering cash games, then tournaments are a great way to limit your loses. When you bust out, your day is done. Your bankroll will be protected for future buy-ins.
Re-buys
Re-buys are good for players that have larger bankrolls. As long as you have a limited number of re-buys, you're extra bankroll investments can give you a strategic advantage. If you can't afford re-buys and add-ons, stick to the regular tournaments. Sure the prize pool will be bigger in a re-buy tournament, but if you can't afford to add to your stack, you'll be playing at a disadvantage.
Monitoring your bankroll is essential. By keeping track of your wins and losses you can have a realistic record of how you're performing over a long period of time. If you play poker often, tournaments can limit your bankroll loses. As long as you set limitations for yourself, re-buys are a good idea for players with bigger bankrolls. If you don't have the cash to re-buy and add-on, stick to the regular tournaments.