There are many reasons why we play online poker. For most of us, we are driven by a love of this centuries-old card game that requires a perfect balance of skill and good luck in order to win. Others

There are occasions when we here at ReadyBetGo want to bring you interesting facts about the gambling industry When something catches our eye, we will publish it for your enjoyment.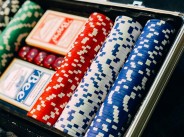 are driven by the excitement of this inherently dramatic game, where the stakes are always high, and fortunes can be overturned in an instant.
Others, such as those who play poker professionally, play to win. They spend hours perfecting their poker strategy, working on a convincing bluff, and calculating exactly when to make the winning move. One essential component of poker strategy that is not often discussed on the pro poker forums is bankroll management.
No matter how much of a high roller you are, a well-defined bankroll management system is essential. With that in mind, here are some of our favourite bankroll management tips, as practiced by the pros.
1. Keep Your Poker Cash Sealed and Separate
The golden rule of good bankroll management is to never, ever mix your poker cash with your "personal", everyday cash. Do not treat your bankroll as some abstract concept that you can change at will. Set up a digital or physical account for your poker bankroll and make sure that this is the only place from which you can withdraw money for wagers. Once you have done this, all of the other tips in this guide are much easier to stick to.
2. Utilise Cashback Whenever Possible
If you are playing poker online, you can often apply for cashback to recoup a certain percentage of your losses. As this guide to the best casino offers available explains, you can get up to 15% cashback on your losses simply by being a loyal member of an online poker platform. Typically, you can redeem a cashback offer on a weekly, bi-weekly, or monthly basis. Once you have done this, you will be refunded a percentage of the total losses that you have sustained during that time period. This is a great way to stretch your bankroll further.
3. Adjust Your Stakes According to Your Bankroll
A core tenet of good bankroll management is flexibility. You should not be playing the same stakes if you are performing poorly. This is the quickest possible way to burn through your bankroll with nothing to show for it. Many professional poker players will be quick to tell you that the best approach is to lower your stakes when you are losing, in order to stay in the game for longer and increase your chances of a comeback.
4. Never Go Beyond Your Bankroll
This one might seem obvious, but it really does bear repeating. If you want a sustainable, long-term poker strategy, you need to have cast-iron limits on your bankroll. Never, ever spend beyond your bankroll in a session of poker. This applies even if you are on a "winning streak", as you could quickly find that your luck has run out in the next round.
5. Choose Your Game Carefully
Not all poker games are created equal. This is especially true in the world of online poker, where there exists a dizzying amount of poker variants with varying edge levels and minimum/maximum stakes. The type of poker game you choose to play will always have a significant impact on how long your bankroll lasts and how much flexibility you have while playing. Keep this in mind and choose carefully.
6. Calculate Your Overall ROI
In order to build a truly sustainable bankroll management strategy, you need to think more long-term. Instead of focusing on your short-term winnings when deciding how to wager, look at the bigger picture. You can use your online poker stats to see what your rate of win and return-on-investment has been for the past 100 games you have played. This will help to give you a more accurate picture of your bet-to-win ratio so that you can build a bankroll that works for you.
By following these professional poker bankroll management tricks, you can stay in the game for longer while reducing your overall risk. Try them out on your next poker game.