Gambling at a casino promises a night of glitz and glamour. To fit in and make the most of this experience, you should ideally put some thought into what you wear. While you don't have to dress

There are occasions when we here at ReadyBetGo want to bring you interesting facts about the gambling industry When something catches our eye, we will publish it for your enjoyment.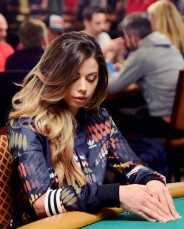 up in a three-piece suit or a ball gown, you can't show up in flip-flops either. Often for professional poker tournaments, a level of sophisticated dressing is expected.
Nowadays, it is possible to play an extensive range of casino games online. For our German speakers try Neuestes Casino ohne Einzahlungsbonus and you have the freedom to try your luck wearing your rattiest hoodie, without judgement of course.
On the other hand, even though most casinos don't impose a strict dress code, you can't show up in shabby pajamas.
So can clothing give you an edge at a live poker game? The answer is yes.
Being humans, subconsciously or consciously, we tend to judge a stranger by their appearance. You can use this to your advantage by thinking carefully about your outfit. Not sure where to begin? Check out our poker fashion tips and tricks.
Always dress for comfort & confidence
Despite your urge to dress impressively, try to prioritize your comfort. Don't go all out and wear something that you don't feel comfortable in. No matter how extravagant or simple your attire is, you should feel like yourself in it.
Wearing a comfortable outfit inspires confidence. It will also allow you to play for hours on end without causing any inconvenience.
Layers, layers, layers
The more players there are at a casino, the cranked up the air conditioning will be. Rather than shivering through a game, be prepared to play in a cold environment. Dress in layers that are easy to take off and carry around. Go for softer fabrics that don't take up too much space when folded.
Raise the shock factor
Do you want to throw your opponents off their game? Introduce a shock factor to your ensemble. An elaborate hat or a brightly-coloured suit can do the trick. If you have a distinct dressing style, this is the perfect opportunity to express it.
Wear sunglasses, scarf, hats
Believe it or not, you can wear sunglasses at a poker game. You can even use a scarf to cover the lower part of your face or a hat to hide your expressions from your opponents. This is an excellent way to mask your tells and continue playing discreetly. It's controversial, but you gotta do what you gotta do.
Dress femininely
As mentioned previously, fashion can help you manipulate your opponents' perception of you. Femininely dressing will push them to underestimate your experience as a poker player. Dress to mould their judgement in your favour.
Hygiene is #1
We understand your desire to have the edge over your opponents, but don't skip personal hygiene to achieve that. For everyone's sake, take a shower, put on some deodorant and wear clean clothes. You can play without showering at your home but not at a professional poker tournament.
Carry earphones
Earphones don't necessarily make a fashion statement, but they can become a valuable part of your attire.
If you're someone who can't stand constant chatter from players, do yourself some kindness and carry a pair of earphones. Listening to music that will help you tune out the noise and focus better. Also, you can just put them on without playing any music, which will still work like a charm by deterring players from initiating a conversation.
The bottom line
If dressing up for a live poker game sounds like too much work, you can always give online casinos a try. After all, they're the epitome of comfort and convenience.