Call it what you will, a Cinderella story of rags-to-riches, the impossible made possible, or a Poker revolution, but the story of Chris Moneymaker is one that will never get old or boring –

There are occasions when we here at ReadyBetGo want to bring you interesting facts about the gambling industry When something catches our eye, we will publish it for your enjoyment.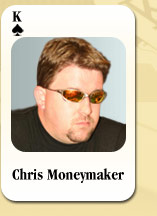 and it's a story quite unlike any other. It's a moment in history that will never be forgotten or will quite possibly be surpassed. Moneymaker was an average Joe, an accountant from Tennessee, Poker was nothing more than a pastime and he had never played in a live tournament, but his life quickly changed.
If you too, are a bit of an amateur and play online poker here: poker.paddypower.com, read on as we delve into the exceptional story which became known as 'The Moneymaker effect'. Who knows, his story may inspire you to live that Poker dream.
"This is beyond fairy tale. It's inconceivable!"
Those were the now-famous words of ESPN's Norman Chad who was commentating on the coverage of the 2003 World Series of Poker – and he was talking about the Main Event. But let's go back to the beginning. Who was Chris Moneymaker and how did he go on to make history and ultimately start the Poker boom?
Nothing more than an online Poker player, Moneymaker entered into an $86 satellite tournament and went on to win, giving him a crack at another online tournament, a $650 satellite, where there was much more at stake – a seat in the WSOP Main Event. It was another tournament which he won and just like that, he was jetting off to Las Vegas to mix it with the professionals and big stars of Poker. Not only completely unknown to anyone, Moneymaker was the first man to enter the WSOP Main Event by winning an online tournament – a remarkable feat in itself – and this was no dream, but it was about to get a whole lot better.
His aim was to make it to Day 2 of the event, and not only did he achieve that, but he went on to outlast one of his heroes – and professional Poker player – Johnny Chan on Day 3. This was undoubtedly the turning point, and he continued playing with the same levels of aggression, knocking out other famous professional stars including Phil Ivey and Phil Hellmuth, before making it to the final day.
The event reached its climax with Moneymaker up against professional, Sam Farha in the heads-up. The juxtaposition of the amateur, sat in his sunglasses and baseball cap, against the experienced professionalism of Farha, with his slicked back hair and cool persona.
Moneymaker bluffed 'all in' on the river, with his King high card, while Farha folded a pair of 9s – and the complexion of the game quickly swung. Moneymaker was a winner, a world champion – he had outlasted 838 other players. The table showed J♠ 5♠ 4♣ 8♦ 5♥ and his 5♦ 4♠ gave him a full house, beating Farha's J♥ 10♦ that produced a two-pair. Not only did he win the $2.5m cash prize, but a coveted WSOP gold bracelet – and suddenly overnight, entered stardom, becoming a household name and gaining countless opportunities, to the extent that he quit his job as an accountant.
With online Poker in its infancy stages back in 2003, the feats of Moneymaker gave other amateur Poker players hope. They too could play online and should they be successful in tournaments, the live action of tour Poker would await. In fact, in 2004, a semi-professional player called Gary Raymer qualified online and went on to not only enter the Main Event, but win it. The Poker boom lasted three years, and with each passing year, the online Poker player pool doubled in size – with other variations of Poker becoming common, in addition to Texas Hold'em.
17 years on, the Moneymaker story is still astounding and gives those who enjoy the casino pursuits of online Poker the glimmer of hope that one day it could be them.