SAN DIEGO, California -- Getting older has some advantages. One advantage is being eligible to participate in poker tournaments designed solely for seniors. It may surprise many that in recent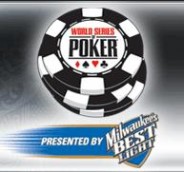 years one of the largest increases in attendance at the World Series of Poker has been in the seniors' event. Perhaps it is the shifting demographics towards an aging population. Perhaps it can be explained by many seniors have more free time to enter tournaments and play poker. But more likely, the emerging popularity of seniors' poker tournaments is due to so many players embracing competitive endeavors which cater to their strengths, including patience and experience.
The World Series of Poker Circuit became the first major tournament series to place seniors' competitions on the schedule. To be eligible to compete, players must be aged 50 and up. Given the large retired population in the San Diego area, it was no surprise to see a sizable turnout at the first-ever "Seniors Open" held at the Harrah's Rincon Casino and Resort.
The $200 buy-in two-day tournament attracted 192 entries, which generated $37,248 in prize money. The top 18 players collected payouts. All of the action took place inside the Rincon Pavilion Showroom. The top ten finishers were:
10th Place – Ron Segni, from El Cajon, CA finished in tenth place. He is a 51-year-old general contractor. This marked his second occasion to make it to a WSOP Circuit final table at Rincon. Segni said that he plays poker for fun, but "I also like the money."
9th Place – Michael O'Brien, from Poway, CA finished in ninth place. He is a 61-year-old retiree. In addition to playing poker regularly, he also enjoys duplicate bridge. Interestingly, O'Brien played in an 11 am tournament earlier in the day and managed to make it to that final table (at a nearby casino). He then drove 15 miles to Rincon and made it all the way to the final table of the seniors' championship, finally busting out 15 hours after his poker day began.
8th Place – Paul Watkins, from Temecula, CA finished in eighth place. He is a 54-year-old physical education and health teacher. This was Watkin's first time to make it to a WSOP final table. He has already won a seat into the WSOP Seniors World Championship in Las Vegas, coming in June.
7th Place – The first player to make two final table appearances at this year's Rincon series is B. Wilkes, from Poway, CA. He finished in sixth place two days ago. He took seventh place in this event. "I guess tomorrow I'm going to finish in eighth place," Wilkes joked afterward. He is a 54-year-old retired writer.
6th Place – Ernie Baluyot, from Valley Center, CA finished in sixth place. He is a 64-year-old retired sailor, who formally served in the U.S. Navy.
5th Place – George Jura, from Brea, CA finished in fifth place. He is a 64-year-old recreational poker player, making his first final table at the WSOP.
4th Place – Ray "Mac the Knife" McCabe, from Anaheim, CA finished in fourth place. He is the 52-year-old President of a company called "Egg Whites International." He is also aa trick shot artist in pocket billiards. McCabe also wanted to note that he has been married for 27 years and has four grandchildren.
3rd Place – Jim Ray. From Fallbrook, CA finished in third place. He is a 68-year-old Chief Executive Officer.
2nd Place – David Linden Brent, from Las Vegas, NV finished in second place. He is a 52-year-old assistant district attorney. $5,906 was the official prize paid for second place.
1st Place – The winner of the 2009 Rincon Seniors Championship was Scott Aurich, from Coronado, CA. He received an official payout totaling $9,312. Aurich is a 52-year-old real estate broker. This was his first recorded cash ever in a major poker tournament.
With five major events now completed at Harrah's Rincon, the tournament has now attracted 1,906 total entries and has awarded over $400,000 in total prize money. Still to come are ten more gold ring events (starting at noon daily) and four daily double tournaments which begin at 4 pm. The WSOP Circuit at Harrah's Rincon continues through April 1st.