JAX BEACH, FL, -- Ease of depositing is one of the main reasons
poker
sites that allow US players are maintaining such a large player database. At places like Pokerstars.com someone can download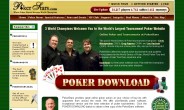 PokerStars.com
the software, make an account, and deposit using their checking account from the US and within 5 minutes they are playing poker.
It has gotten so silly that while the gambling act called the UIGEA was put in place 3 years ago, some people are finding it easier to deposit at poker sites and casinos.
Roger, the owner and CEO of Compatiblepoker.com had this to say about
online poker
in the US. "The poker sites that maintain a large reputation of fairness and have the ability to adapt to allow their players immediate access to not only deposit but withdraw their funds are the ones winning the players over right now. Among the leaders are those of Pokerstars.com."
Other poker sites that are leading the pack in reputation and cashier trust are those listed at the top of www.compatiblepoker.com/usa.php. This site has been running for over 5 years and has been following the legal issues with poker in the United States since before the UIGEA was passed.
"We are about to see some major changes in the industry in the next few months as brand new bills are introduced to fully legalize online poker in the US. On the other hand, processors of players money are supposed to be in compliance within 4 months to no longer allow US deposits. I am confident that even after this law is passed, poker players in the US will have no problem depositing," said the owner of Compatiblepoker.
As players continue to play at the moment unaware of what may happen in the next four months, poker operators are planning ahead for the future, both for the possibilities of the better and the worse. In the end online poker and casino games aren't expected to go anywhere as the popularity just continues to grow. Tell someone they can't do something they love and they'll just try harder to do it!
More information is continually updated at www.compatiblepoker.com/usa.php serving US players with news regarding the US legal situation for over 3 years as an authority figure in the affiliate business.
Compatiblepoker does not take responsibility for gamblers who play illegally. They are an information provider and players should check local, federal, and state laws surround their area before gambling online.
Plaza Roble Corporate Center
San Juan
Costa Rica
PokerStars.com is a fun, safe place to play poker with people from around the world for real or play money. The site offer the most popular poker games such as Texas Hold'em, Omaha and Stud. Real money limits range from $0.01/0.02 to $100/$200. PokerStars is an official member of the World Poker Tour, and the title sponsor of the European Poker Tour (EPT) and the PokerStars Caribbean Adventure. In the fall, PokerStars hosts the world's largest online tournament, the World Championship of Online Poker (WCOOP).