PUNTA DEL ESTE, Uruguay -- Taking time out from his political studies, 20-year-old student Karl Hevroy from Bergen, Norway has won one of South America's largest ever poker events. The star-studded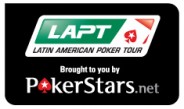 poker tournament, which attracted 327 players from across the world, boasted the largest ever PokerStars LAPT prize pool of $1.1 million. Three days of intense competition has netted the young poker player a cool $283,500.
The Uruguay stop of Season Two of the PokerStars LAPT featured one of the largest buy ins of the tour so far with players who hadn't qualified online at PokerStars needing $3,700 to enter. The young Hevroy hadn't even intended to play the event, but was persuaded to at the last moment by a group of Peruvian players he met at the PokerStars EPT Copenhagen, a decision that has reaped him incredible dividends.
The three-day event was held at the luxurious Mantra Resort and Casino in stunning Punta Del Este, Uruguay. Following three days of grueling play, Hevroy clinched the LAPT title on the very first hand of heads-up play. On a board of 9-9-8, his opponent, Argentinian player Alejandro De Arruabarrena, over-committed himself with Q-J and was horrified to see Karl flip over 9-8 for the flopped nuts.
Despite a dominant final table performance, Hevroy remains humble about his play.
"I'm so happy, I don't feel like I know anything." Hevroy said of his win. "I had a few moments where I was in danger, and then I lock-boxed my way out."
With 327 players in the main event in addition to more than 160 in the second chance event on the second day, the LAPT has continued to firmly establish itself as the most successful tour in Latin America.
"Season Two of the LAPT continues to bring larger fields, larger prize pools and more poker excitement than ever before to Latin America" said Glenn Cademartori, PokerStars LAPT President. "We have no doubt that our season finale in Mar del Plata next month will break all records in the region and set the bar even higher for all future Poker events in Latin America."
Satellites for the LAPT Mar del Plata event are available daily on PokerStars. Players have the chance to win a prize package which includes a main event buy-in, accommodation for four nights, and spending money for expenses. Please visit /pass/links/?linkId=969&curId=4329/ for more information, updates on tour dates and how to qualify.
Plaza Roble Corporate Center
San Juan
Costa Rica
PokerStars.com is a fun, safe place to play poker with people from around the world for real or play money. The site offer the most popular poker games such as Texas Hold'em, Omaha and Stud. Real money limits range from $0.01/0.02 to $100/$200. PokerStars is an official member of the World Poker Tour, and the title sponsor of the European Poker Tour (EPT) and the PokerStars Caribbean Adventure. In the fall, PokerStars hosts the world's largest online tournament, the World Championship of Online Poker (WCOOP).