WASHINGTON, D.C. -- Former Senator Alfonse D'Amato, chairman of The Poker Players Alliance (PPA), the leading poker grassroots advocacy group with more than one million members nationwide, today released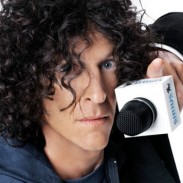 Howard Stern has joined the Poker Players Alliance (PPA) the following statement commending radio host Howard Stern on joining the PPA.
"I can't think of a more fitting way to kick off National Poker Week than having my friend, Howard Stern, become a member of the PPA. I thank him for having me on his show this morning and for supporting the PPA's efforts to protect the freedom of American citizens to play the great game of poker at the time and place of their choosing – a freedom Congress voted to take away.
"National Poker Week is a way to shine the spotlight on this injustice and educate my former colleagues on why licensing and regulation of Internet poker is a much more effective – and revenue generating – alternative than an outright ban of this great American pastime.
"With Howard Stern as a member of the PPA, it shows Congress and the public that protecting Internet poker is about more than just poker – it's about protecting Internet freedom and personal responsibility."