LOS ANGELES, CA - Real estate tycoon Donald Trump has made a bid to buy New Jersey casino operator Trump Entertainment Resorts Inc (TRMPQ.PK), which in February logged its third bankruptcy filing,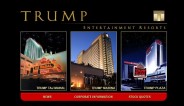 Trump Entertainment Resorts the Wall Street Journal reported on Tuesday.
Trump, the casino operator's founder and one-time chairman, resigned in February when bondholders demanded a Chapter 11 filing after the company missed a $53.1 million bond interest payment.
Trump Entertainment, which owns three Atlantic City casinos, has had difficulty righting itself due to a heavy debt load and increasing competition from new casinos in nearby states such as Pennsylvania.
A deal had been was reached to sell the Trump Marina to Coastal Marina LLC for $270 million, but it fell through due to a lack of financing.
Neither Trump or Trump Entertainment was immediately available for comment.
(Editing by Lincoln Feast)
Trump Entertainment Resorts
725 Fifth Avenue
New York, NY 10022
Toll Free Phone: (877) DJTRUMP
Website: www.trumpcasinos.com

Trump Entertainment Resorts, Inc. operates three properties including Trump Taj Mahal Casino Resort and Trump Plaza Hotel and Casino, located on the Boardwalk in Atlantic City, New Jersey, and Trump Marina Hotel Casino, located in Atlantic City's Marina District. Together, the properties comprise approximately 371,300 square feet of gaming space and 3,180 hotel rooms and suites.