PITTSBURGH, Pennsylvania -- As reported by the Pittsburgh Post-Gazette: "With a touch of Vegas glitz, from leggy showgirls to fireworks,
slots
gambling arrived in Pittsburgh yesterday as big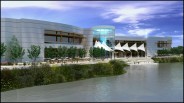 The new Rivers Casino in Pittsburgh, PA
crowds swarmed the Rivers Casino on its opening day, eager to try out their luck.
"If there was any doubt about the city's appetite for slots, it was all but dispelled by early afternoon, as customers huddled around many of the casino's 3,000 machines, nearly filled the 3,800-space parking garage and endured long lines that snaked around the gambling floor to sign up for players cards.
"For the most part, the North Shore riverfront venue seemed to be an instant hit. If visitors weren't playing, they appeared to be eating, crowding several of the casino's restaurants, including its all-you-can-eat buffet.
"...More than three years in the making, the casino, which came close to bankruptcy last summer, opened at precisely noon in a shower of confetti and a burst of fireworks. A big cheer erupted from hundreds gathered outside on a sweltering August morning waiting to play before they streamed through the doors.
"For the dignitaries gathered for the opening, the venue not only represents another entertainment choice but a potential cash cow. In the first year of operation, the casino expects to take in more than $400 million -- the equivalent of what players will lose -- with 55 percent of that going to the state, most for property tax relief..."
The Rivers Casino
777 Casino Drive
Pittsburgh, PA 15212
Phone: (412) 231-7777
Website: www.theriverscasino.com

Located on the North Shore, this river-side casino offers over 3,000 slot machines, five 5-star restaurants, nightly entertainment and plenty of lounges, clubs and bars to enjoy.