Mecca Bingo, the award-winning bingo brand is celebrating the launch of its newly revamped website by offering players the chance to win over £30,000! With a fantastic new look, Mecca Bingo has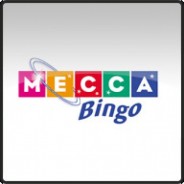 been given a refreshing makeover whilst retaining the same friendly community, fantastic promotions and offering players even more ways to win huge jackpots every single day.
The Online Bingo Championship which takes place on the new and exciting Mecca Bingo site offers all players to be in with a chance of winning over £30,000! Qualifying games take place throughout April and the winners of these games will be automatically entered into the free jackpot game at the end of the month where they stand to win that life changing sum of money! All players who enter a qualifying game will also receive an hour of free bingo, where they stand to win even more fantastic prizes.
New players on the site can benefit from one of the most competitive sign-up bonuses available, with up to £50 free on offer to all new members! With a vast array of great games to be played on the site as well as bingo games around the clock, Mecca Bingo is a great destination for any bingo fan. All players have the chance to get to grips with bingo and other games on the site with the free-play before playing for cash.
As one of the most respected brands in the online bingo world, Mecca Bingo seamlessly marries together the worlds of online and offline bingo, with the new website offering players all the latest news and information about their local Mecca Bingo halls.
The new Mecca Bingo site features everything that new and existing players need to know to get the most out of their online gaming experience, with an easy to navigate online community featuring a wealth of information to support existing players and guides to help new players get started on the site.
To visit the fantastic new Mecca Bingo site and benefit from the experience of one of the UK's highly respected bingo brands, visit www.meccabingo.com