TAMPA, Florida -- A new Hard Rock Cafe will open at the Seminole Hard Rock Hotel & Casino Tampa before year's end, bringing Hard Rock's classic American fare, authentic rock atmosphere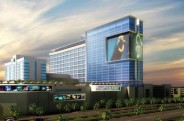 Seminole Hard Rock Tampa Casino expansion would include 1,000 new rooms, 50,000 square feet of meeting space and a new music venue.
and live music to what is already Tampa's leading entertainment destination.
"We are thrilled to extend our legendary Hard Rock Cafe experience to Florida's most successful casino," said Hamish Dodds, president and CEO of Orlando-based Hard Rock International. "Hard Rock's vibe and atmosphere will be a perfect complement to this amazing entertainment complex."
Expected to become one of Tampa Bay's premier dining and entertainment destinations, the 17,500 sq. ft. Hard Rock Cafe Tampa will be constructed in the northwest corner of the existing casino complex, nearly doubling the 9,000 sq. ft. space formerly occupied by Floyd's restaurant and nightclub. Employees of Floyd's, which closed 10 days ago, have been kept on the payroll for positions at the casino or the new cafe. In addition, managers of the Seminole Hard Rock Hotel & Casino expect to hire additional employees for the cafe at a fall job fair.
"This is a win-win-win for the casino, for our employees and for Tampa residents and visitors, who will have yet another renowned dining and entertainment option at the Seminole Hard Rock," said John Fontana, president, Seminole Hard Rock Hotel & Casino Tampa. "We're making a multi-million dollar investment that will generate a significant economic impact throughout the Tampa Bay region."
Three primary entertainment areas will make up the exciting design of the new 350-seat cafe. At one end, table seating will surround an elevated stage, to be the site of regularly-scheduled performances. Opposite the stage, the main Hard Rock Cafe bar will be highlighted by a dramatic multi-media canopy, arched over the bar and thrusting out to the main restaurant seating area, which will occupy two levels in the center of the cafe. An open display kitchen will include a "burger bar" area where beef will be ground into hamburger and formed into patties. A Rock Shop featuring Hard Rock's limited-edition merchandise, such as clothing, gifts, pins and more, will open as part of the new cafe, which will also feature a new outdoor patio and bar.
Hard Rock Cafe Tampa will feature rock 'n' roll memorabilia from Hard Rock's unmatched collection. Innovative technology will give guests touch screen access to Hard Rock's memorabilia and merchandise and even allow them to vote on what music video plays next in the cafe. Hard Rock International plans to beta test new products and presentation equipment at the Tampa cafe before rolling it out to Hard Rock locations worldwide.
"The new cafe includes many of the most forward-thinking entertainment concepts available today," said James Allen, Chairman of Hard Rock International and CEO of Seminole Gaming. "It draws from the considerable expertise of Hard Rock International executives in Orlando, who are partnering in the project with senior managers at the Seminole Hard Rock Hotel & Casino Tampa."
Hard Rock Cafe Tampa is being designed by Klai Juba Architects, Las Vegas, with interior designs by 555 Design Fabrication Management of Chicago. Artist's renderings of the new cafe are expected to be released soon.
Hard Rock Cafe Tampa will open before the end of 2010 at I-4 and Orient Road, 10 minutes east of Tampa and 45 minutes west of Orlando.
It will be sixth Hard Rock Cafe in Florida, joining others in Miami, Key West, Orlando, Destin and at the Seminole Hard Rock Hotel & Casino Hollywood.
Seminole Hard Rock Casino - Tampa
5223 North Orient Road
Tampa, FL 33610
Phone: (813) 627-7625
Toll Free Phone: (866) 502-PLAY
Website: www.hardrockhotelcasinotampa.com

The Seminole Hard Rock Hotel & Casino Tampa has a 90,000-square-foot casino open 24 hours daily. The casino has over 2,200 gaming machines including Wheel of Fortune, Little Green Men, Texas Tea plus classics like Double Diamond, Red, White & Blue, Double Wild Cherry and Five Times Pay. There are also 50 tables of live action poker, with everything from Seven-Card Stud to Texas Hold'em to Omaha.