LOUSIANA – As reported by Business First: "Churchill Downs Inc. said Wednesday its Fair Grounds Race Course in New Orleans is moving forward with plans to build a slot-machine gaming facility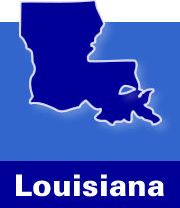 next to the track.
"Construction of the 30,000-square-foot facility, which would contain up to 700 slot machines, was scheduled to begin in September 2005, but it was delayed when Hurricane Katrina hit the area in August of that year. The hurricane damaged the track and stable area, as well as many of Fair Grounds' off-track betting facilities.
"'Following the hurricane, our priorities were to locate our employees and help them with their immediate needs and then repair and reopen our pari-mutuel and video-poker facilities,' Steve Sexton, executive vice president for Churchill Downs Inc., said in a news release. 'With our repairs completed and this season's race meet well under way, we can now focus fully on plans to implement slot machine gaming at Fair Grounds.'
"While the gaming facility is being constructed, Fair Grounds intends to operate a temporary slot-machine area on the first floor of its simulcast-wagering parlor. This area would house about 225 machines. The racetrack is seeking permission from the New Orleans City Planning Commission and the New Orleans City Council to carry through with the plan.
"'We think it makes good sense to operate out of a temporary facility while the permanent building is under construction so we can start the flow of tax revenues to the city of New Orleans and state of Louisiana -- and generate additional money for horsemen's purses -- as soon as possible,' Fair Grounds president and general manager Randy Soth said in the release.
"Pending approval, renovations to the temporary facility would begin in late spring, with a target opening of October. Construction of the permanent facility, which has been approved, will begin this summer. The facility is scheduled to open in late fall 2008.
"Louisville-based Churchill Downs Inc. (NASDAQ: CHDN) owns and operates five racetracks in five states."
Churchill Downs Incorporated
700 Central Avenue
Louisville, KY 40208
Phone: (502) 636-4502
Website: www.churchilldownsincorporated.com

Churchill Downs Incorporated, headquartered in Louisville, Ky., owns and operates world-renowned horse racing venues throughout the United States. CDI's six racetracks in Florida, Illinois, Indiana, Kentucky and Louisiana host many of North America's most prestigious races, including the Kentucky Derby and Kentucky Oaks, Arlington Million, Princess Rooney Handicap, Louisiana Derby and Indiana Derby.