Greektown Casino-Hotel will debut a new signature restaurant in December 2012 named Brizola.
Brizola restaurant, located just off the casino floor, features a progressive wine menu, including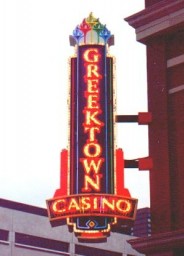 new and old world wines, a large bar complemented with bold design and city views. The menu boasts cuts of prime beef, the freshest seafood and decadent side dishes and desserts.
At the helm in the kitchen is award-winning chef Anton Brunbauer. With over 30 years of culinary expertise that includes vast experience in the fine dining realm, Chef Brunbauer is known for his inventive and international flare. "We've put together a great team and created a unique contemporary menu, accompanied with the traditional favorites, that our guests are sure to enjoy," said Chef Brunbauer. "The intimate atmosphere, great food and stellar customer service will make Brizola a welcomed addition to the casino-hotel property and the Greektown District."
Brizola is a complement to numerous other property enhancements Greektown has made recently, with more planned. In the first quarter of 2013, the property will unveil the Market District, an exciting collection of four casual dining venues featuring a wide selection of cuisine, along with the opening of an 850-space valet garage.
Regular operation hours for Brizola are 5 p.m. to 11 p.m. Tuesday – Saturday. Reservations for Brizola can be made beginning December 20, 2012 through Open Table (www.opentable.com) or by calling (313) 309-2499.

Greektown Casino
555 East Lafayette Avenue
Detroit, MI 48226
Toll Free Phone: (888) 771-4FUN
Website: www.greektowncasino.net

Greektown Casino is the only 100 percent Michigan-owned gaming destination in Detroit. The Sault Ste. Marie Tribe of Chippewa Indians currently holds a 90-percent interest in the casino and a group of Detroit residents controls 10 percent. Greektown Casino has over 2,400 slot machines, 80 table games and a poker room.