The Joy of Six Slot simulates craps action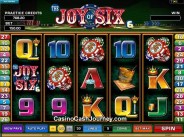 Microgaming's video slot release The Joy of Six allows players the chance to experience the excitement of the enthralling game of craps. Based in a casino environment, the five-reel, 30-payline slot lets players throw the dice in a vibrant world of vivid graphics, craps animations and distinctive sound effects. The large variety of features within the game gives players many opportunities to profit from an enjoyable experience.
There's only one way to find out - give each of our recommendations a try in your next playing session! And you don't want to miss out on our slot suggestions this month as we've

There are occasions when we here at ReadyBetGo want to bring you interesting facts about the gambling industry When something catches our eye, we will publish it for your enjoyment. selected them in honour of World Magic Day.
Did you know that this day is celebrated along with Halloween on the 31st of October? We certainly weren't aware, but luckily, the folks at bgo.com were on hand to let us know and help us come up with a list of magic-themed slots.
So if you're a fan of fairy-tale adventures or dangerous quests involving mythical beings, you're in great company. From fairies, to wizards, to leprechauns, each of our slot suggestions features magic at every turn. And who knows . . . you could luck out and land a magical win to boot! Take a look at our infographic below to learn more.