Frugal Gambler
by Jean Scott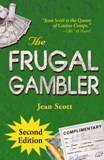 Though Jean Scott was well-known to a select few Las Vegas aficionados throughout the '90s, it wasn't until the publication of The Frugal Gambler in 1998 that she became a household name to casino players across the country. Her frequent national publicity, her long-term success in casinos around the world, and the solid low-rolling advantage-play techniques she's divulged along the way have all helped catapult The Frugal Gambler into the ranks of best-selling gambling books. The new revised edition includes a completely revamped chapter on video poker, updated coverage of getting the most out of slot clubs, recent examples of exploitable gambling promotions, and a brand new Resources section, identifying the best sources of player information available-from books to software to the Internet.
Multi-hand Jacks or Better Online!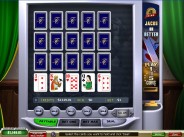 For a good deal try the 9/6 multi-hand Jacks or Better video poker machine at Casino Tropez. This four-hand games has a payback of 99.5%, making it one of the highest payback machines on the Internet. In addition to the 6 coin return for a flush and the 9 coin return for a full-house, you'll get 25 for four-of-a-kind and 50 for a straight flush per coin bet.
I once wrote an article about my experiences playing a Fifty Play video poker machine. Subsequently, I got some "raised-eyebrow" emails from people telling me that they didn't think playing

Jean Scott is known as the "Queen of Comps" and encourages smarter casino gambling. She appears on network and cable TV, especially on the Travel Channel. Her down-to-earth practical suggestions will save you both time and money in your quest to make your trip to the casino more fun and more profitable. Jean's website is www.queenofcomps.com $62.50 a hand was very frugal. Many people seem to think that being frugal is synonymous with being a low roller. Not true. Frugal means getting value for your money—at any level of play.

Now, what is a low roller? And at what point does a low roller cross a line into high rollerdom? That's not easily answered. When we played only quarters, we considered ourselves low rollers—no question. When we went to dollars, we did so because we'd won enough playing quarters to build up our bankroll for dollars, not because our base income rose. So we still considered ourselves low rollers.
However, as our gambling bankroll grew, we could jump from single-line dollar machines to dollar Triple Play (risking $15, rather than $5, on each push of the Deal button). Then our feelings started changing a little. We still didn't consider ourselves high rollers, But when we had days when we were losing $5,000-$7,000, although we realized that this was just the normal fluctuation for this level of play, we decided maybe we were getting a little closer to high-roller status, at least in attitude if not in altitude.
To further complicate matters, we now sometimes play $5 machines or even $5 Five Play, risking up to $125 a hand. But we still play quarter machine at times. So are we low rollers or high rollers?
The answer is: There is no one answer. When we play at a past-its-prime casino in Downtown Vegas, we feel like low rollers—no matter what denomination we play. When we play at a swanky Vegas Strip resort, we always feel like high rollers. People who briefly take a shot at the $25 machines, although they really only have a long-term bankroll for $1 play—are they temporary high rollers who turn back into low rollers at the $1 machines? A nickel player probably feels pretty "high-rollerish" when he switches to quarters. Most people judge the status of other gamblers by their own level of play and label it accordingly.
Gamblers are often labeled according to the amount they put into their "psychological gambling bankroll" (i.e., how much you're mentally prepared to lose) compared to their actual monetary bankroll. I know millionaires who, year after year, travel to casinos all over the country and happily play nothing higher than a quarter machine – although they could "afford" to go up in denomination. And I know people of limited means who drain the last few hundred dollars from their savings account and blow it in a few minutes in a high-limit slot salon at their local riverboat casino. It's hard to categorize gamblers.
But the main thing to remember is that what you label yourself, or what other people label you, isn't the important issue. The question you should ask yourself is this: "Am I getting good value - monetary and/or entertainment value - from my gambling bankroll?"

And if the answer is yes, then whether you're a low roller or a high roller, you're truly frugal.