More Book Reviews
Best Selling Poker Books of 2014
How did the new books compare to the old classics? Well, we will let the data speak for itself. Take a look at the list of the best selling poker books of 2014.
Deal Me In and Eat Professional Poker Players Alive Reviewed
There isn't a clear path by which people become professional poker players. There aren't any good courses at the local vo-tech for a person to study. The road to becoming a poker pro is inevitably difficult, circuitous, and filled with setbacks. Deal Me In is a book describing the course by which twenty top poker players became professionals.
Poker Winners Are Different
There is a big difference between what's typical human behavior and what is called for to play poker at a high level. There aren't a lot of people for whom maximizing their expectation in poker games comes naturally. Poker Winners Are Different by Alan Schoonmaker examines this conundrum.

No-Limit Texas Hold'em: A Complete Course
by Angel Largay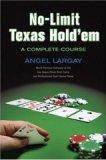 Angel Largay shows students what works and what doesn't, common mistakes, and how to get beyond them. Today, many of his students are full-time professional players. If you're aspiring to become a professional—or simply to play like one—No-Limit Texas Hold'em will help you make it happen.
In poker, the flavor of the moment is no-limit Texas hold'em, it's far and away the most popular game played today. In the last few years a great deal of advice on how to play the game has been published.

Nick Christenson is widely regarded as one of the best gambling book reviewers publishing today. He is a contributor for Poker Player magazine, and has published in Full-Tilt and Gambling Times. He is also the editor of the very funny 'Casino Death Watch,' which chronicles the comings and goings of casinos in Las Vegas. He is an avid poker and blackjack player. Nick's website is www.jetcafe.org/~npc/ There's still room for additional good books on the topic, though, because this particular game is extremely complex, and the literature to date still leaves a lot of aspects to the game uncovered. Angel Largay is a successful cash game player who has spent considerable time over the last few years teaching students how to be winners playing no-limit hold'em. In this book, he relates his advice, specifically as it applies to the limited buy-in cash games that are popular these days.
The book begins with a chapter on introductory concepts such as reading the board and recognizing draws. While these are certainly important skills, they're also very elementary. In other parts of the book, Largay makes the assumption that his reader is well beyond this stage, and this makes the earlier material feel somewhat out of place.
The second chapter covers poker math. This topic has been covered many times before in other sources. Including this information is necessary, though, since much of Largay's later arguments are predicated on an understanding of these concepts and because so many poker players don't have a thorough understanding of these issues. His treatment of this topic is quite serviceable.
Next, Largay moves on to cover player types and reading both other players and their cards. Of course, both of these topics have been covered more extensively in other books, but Largay provides a good synopsis of this material in the space allotted. As with some of the other chapters, the author provides his own emphasis on the subject matter that is reasonably interesting and often insightful.
The last sections of the book cover the play of hands, divided into pre-flop and post-flop situations. Largay's advice here is nuanced and displays his experience. He has his own winning approach to playing in restricted buy-in no-limit games, and he never takes his eyes off the goal of winning. I don't always agree with everything he says, but I have no doubt that he manages to be a consistent winner practicing what he preaches. There is plenty of good advice here.
There are a couple of elements of No-Limit Texas Hold'em: A Complete Course that I believe could be improved. As with many poker authors, Largay often recommends making certain types of plays under certain circumstances, but some of these deviate enough from "normal" play that they could be recognized and exploited by aware opponents. Generally, I don't see enough attention paid to the issue of opponents countering one's strategies in poker and how to avoid playing exploitively. Largay's book isn't an exception to this.
While No-Limit Texas Hold'em: A Complete Course mostly lives up to its promise, it does fall short of being truly comprehensive. I don't think it's the best book for those who are completely new to fixed buy-in no-limit hold'em games, nor do I think it's the best book on this topic on the market. However, it is good and it does emphasize some things that others don't. Therefore, I believe it is worth reading by intermediate level players who participate in these games. While few of the concepts would be revolutionary to advanced players, even these people might gain enough to make reading this book worthwhile, although likely less so. I wouldn't put this book at the top of my recommended list, but it certainly would make such a list.