More Book Reviews
Best Selling Poker Books of 2014
How did the new books compare to the old classics? Well, we will let the data speak for itself. Take a look at the list of the best selling poker books of 2014.
Deal Me In and Eat Professional Poker Players Alive Reviewed
There isn't a clear path by which people become professional poker players. There aren't any good courses at the local vo-tech for a person to study. The road to becoming a poker pro is inevitably difficult, circuitous, and filled with setbacks. Deal Me In is a book describing the course by which twenty top poker players became professionals.
Poker Winners Are Different
There is a big difference between what's typical human behavior and what is called for to play poker at a high level. There aren't a lot of people for whom maximizing their expectation in poker games comes naturally. Poker Winners Are Different by Alan Schoonmaker examines this conundrum.

Poker: The Real Deal
by Phil Gordon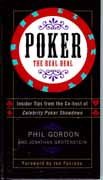 There are 12 chapters to this effort, beginning with a brief history of the game; the basics of Texas Hold 'em including what to look for in starting hands and why; percentages and probabilities and then into the home game. Here you'll get some tips on how to set up a game including who to invite; why chips are better than money; how much to play for; the one-hour rule. Sprinkled throughout the book are excerpts from well-accepted books and classics, lending an interesting balance, with saying, advice, suggestions and a sort of flowing question-answer format, making for a well-balanced, easy-reading pattern

Phil Gordon's Websites
Phil Gordon has four different websites to choose from. You can either visit his personal home page, get more information about his poker DVD, read or order his Little Green Book, or check out his MySpace blog.
Phil Gordon, poker celebrity. What has this world come to? Actually, Phil is very bright, a genuinely nice guy, and a seriously good poker player. It's just an I-remember-him-when sort of thing for

Nick Christenson is widely regarded as one of the best gambling book reviewers publishing today. He is a contributor for Poker Player magazine, and has published in Full-Tilt and Gambling Times. He is also the editor of the very funny 'Casino Death Watch,' which chronicles the comings and goings of casinos in Las Vegas. He is an avid poker and blackjack player. Nick's website is www.jetcafe.org/~npc/ me, but I wish him all the success. Trading on his newfound popularity, Phil Gordon and Jonathan Grotenstein have written a book, Poker: The Real Deal.
Poker: The Real Deal serves as an all-in-one introduction and guide to the game and world of poker. After some introductory material, the authors begin with background information describing the history of playing cards and the game of poker. In the second chapter, we are treated to a very basic introduction to the game of Texas Hold'em, at this time far and away the most popular poker game in the world. It's clear that the target audience for this book is beginning players, folks who may have played some, but aren't online or poker room regulars. At least not yet.
The book moves on to cover recommended sources for furthering the reader's poker education (outside of this book) and home poker. Poker: The Real Deal is well written in a light, conversational style. The authors attempt to provide a solid foundation for beginning players while still providing amusing asides about the game of poker. Phil and Jonathan have created a book that's often fun and amusing, and even though many of the stories were familiar to me, I was entertained.
The book provides some advice on how the reader can come to think like a winning poker player, as well as specific information about playing in a cardroom and online. The authors try to cover a lot of ground in this book, and depth of information suffers at the expense of breadth. For the sake of brevity, some important ideas are given short shrift, and even more are glossed over in a manner that I believe is likely to be more confusing than enlightening to most of the book's target audience.
Poker: The Real Deal concludes with advice on moving from low-limit to middle-limit play, playing no-limit, poker tournaments, and playing professionally. I think that the middle-limit material is really out of place in such an elementary book. The information about being a pro poker player probably is inappropriate as well, but I'm guessing the target audience really wants this information. The no-limit and tournament chapters suffer in the same way that much of the rest of the book does. They're so brief that I'm not sure they provide much value. The authors conclude with an amusing narrative about the reader winding his way through the final event at the World Series of Poker. It made me laugh.
While I don't think the specific poker advice in this book is very good, I do think that the recommendations Phil and Jonathan make regarding other sources to read are excellent suggestions. I'd recommend that a novice player reading this book largely ignore the authors' advice on play and just go out and buy the books they mention. Also, the book could really have used another thorough edit pass, as there are a number of problems that could have been easily corrected by an observant and knowledgeable reader. Despite the flaws, though, I found the book to be quite entertaining. Even though the book was obviously written with the beginner in mind, I think it's probably more suitable for experienced players looking for something light and enjoyable then its target audience.