More Book Reviews
Best Selling Poker Books of 2014
How did the new books compare to the old classics? Well, we will let the data speak for itself. Take a look at the list of the best selling poker books of 2014.
Deal Me In and Eat Professional Poker Players Alive Reviewed
There isn't a clear path by which people become professional poker players. There aren't any good courses at the local vo-tech for a person to study. The road to becoming a poker pro is inevitably difficult, circuitous, and filled with setbacks. Deal Me In is a book describing the course by which twenty top poker players became professionals.
Poker Winners Are Different
There is a big difference between what's typical human behavior and what is called for to play poker at a high level. There aren't a lot of people for whom maximizing their expectation in poker games comes naturally. Poker Winners Are Different by Alan Schoonmaker examines this conundrum.

Phil Gordon's Little Green Book
by Phil Gordon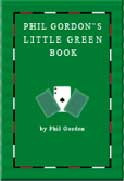 Gordon knows the game as well as anyone. His ability to teach, suggest, and offer examples is some of the best you'll ever read. His book is both a tutorial and an informational gap-filler as it takes the novice through the basics with and understanding that there is need to rationalize and emphasize key points.

Phil Gordon's Websites
Phil Gordon has four different websites to choose from. You can either visit his personal home page, get more information about his poker DVD, read or order his Little Green Book, or check out his MySpace blog.
Phil Gordon is well known to the viewers of televised poker as a host of Bravo TV's show, Celebrity Poker, and from his tournament victory on the second season of the World Poker Tour. Gordon is an

Nick Christenson is widely regarded as one of the best gambling book reviewers publishing today. He is a contributor for Poker Player magazine, and has published in Full-Tilt and Gambling Times. He is also the editor of the very funny 'Casino Death Watch,' which chronicles the comings and goings of casinos in Las Vegas. He is an avid poker and blackjack player. Nick's website is www.jetcafe.org/~npc/ accomplished poker player specializing in no limit hold'em tournaments, and in Phil Gordon's Little Green Book he discloses the strategies he has used to succeed in these events.
Gordon organizes his book in a familiar format. He starts with some general poker principles, analyzes each hold'em betting round, and then concludes with miscellaneous topics. Some of these topics are tells, tournament considerations, poker math, and psychology. The book is written in a very conversational style with the author darting from one topic to the next. The pages flow by quickly, but the book is deceptively deep. Even though the total coverage isn't as thorough as in some other books, Gordon manages to touch on nearly every aspect of the game.
As the subtitle suggests, the book is exclusively devoted to the play of no-limit hold'em. Much of the material in these pages focuses on tournament play, a logical choice since the author states his preference for these games. Despite this, many of the ideas are equally and in some cases better suited toward cash games. Those who don't play in many tournaments are still likely to find this book worthwhile.
The author affords us a remarkably candid view of the way he plays, and in many cases he provides detailed justification for his strategies. Even though this thoroughness fades a bit toward the end of the book, the reader comes to understand the reasons Gordon finds the way he plays to be effective. This not only gives the audience insight into the style of play adopted by the author, but also provides sufficient basis for the readers to make informed decisions as to which tactics will fit in with their own overall game plan.
There are places in the book where Gordon isn't as precise as I'd like, and a few more where the wording made me cringe, but these occasions are easy for the reader to overlook, especially when the overall quality of the material is high. I also think it's unfortunate that its title is so similar to that of an obscure book written by Walt Fong, but I expect few will be confused by this.
I don't think I'd recommend this as a first book on no-limit hold'em for beginners, but I think it would be an excellent choice as a second book on the game for players with at least some experience. While advanced players will doubtless find much of what the author has to say to be familiar, it's likely that at least a few tactics, ideas, and ways of looking at situations will be novel enough to justify reading this book. I found it to be worth the time I spent reading it, and I recommend Phil Gordon's Little Green Book to most no-limit hold'em players.