More Book Reviews
Best Selling Poker Books of 2014
How did the new books compare to the old classics? Well, we will let the data speak for itself. Take a look at the list of the best selling poker books of 2014.
Deal Me In and Eat Professional Poker Players Alive Reviewed
There isn't a clear path by which people become professional poker players. There aren't any good courses at the local vo-tech for a person to study. The road to becoming a poker pro is inevitably difficult, circuitous, and filled with setbacks. Deal Me In is a book describing the course by which twenty top poker players became professionals.
Poker Winners Are Different
There is a big difference between what's typical human behavior and what is called for to play poker at a high level. There aren't a lot of people for whom maximizing their expectation in poker games comes naturally. Poker Winners Are Different by Alan Schoonmaker examines this conundrum.

Fast Company
by Jon Bradshaw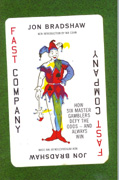 Here's a reissue of one of the most-requested books on gamblers. Bradshaw profiled six full-time gamblers whose names are well-known among their peers--Johnny Moss, Puggy Pearson, Titanic Thompson, Bobby Riggs, Minnesota Fats and Tim Holland--men who deal with proposition after proposition day in and day out. He uncovers what makes them successful, how they survive, describes dramatically the games they play and the kind of move they make. He probes their minds and hearts as he attempts to define aht makes some men winners and other men losers. The author was one of the most distinguished journalists of the 60s and 70s. He contributed to Esquire and New York magazines and wrote a book on backgammon and diec in 1986 at the age of 48. 239 pages, paperbound, August 2003

Gambler's Book Shop
The Gambler's Book Shop (or Club) is the world's oldest and largest shop devoted to gambling and all its related topics. Open since 1964, The Gambler's Book Shop has thousands of books covering over 30 different areas of gambling related subjects. Besides the usual topics that include all the casino games, poker, and horse racing, you will find books about math, probabilities, biographies and novels. If you can't visit in person, you can request a copy of their FREE Catalog (CALL 1-800-522-1777) or shop online from their web site. They also offer a free monthly electronic newsletter that features new arrivals.
There are many who (when taking a break from the casino games or placing bets) enjoy sitting back and reading the 'adventures' of the successful or colorful characters who have become legends.
We're

Howard Schwartz, the "librarian for gamblers," is the marketing director for Gambler's Book Club in Las Vegas, a position he has held since 1979. Author of hundreds of articles on gambling, his weekly book reviews appear in numerous publications throughout the gaming industry. Howard's website is www.gamblersbook.com
often asked at the bookstore which titles profile the 'survivors' of the gaming 'wars' and have in some way stood the test of time over the generations.
Two books in particular stand out. They are
Fast Company
(How Six Master Gamblers Defy the Odds-And Always Win) by the late Jon Bradshaw (239 pages, paper bound, $16) and
Gambling Wizards
(Conversations With the World's Greatest Gamblers) by Richard Munchkin (306 pages, paper bound, $14.95).
Fast Company, a most appropriate title for a book, focuses on Pug Pearson and Johnny Moss, two legends who have passed on; Titanic Thompson, a legendary hustler and con man; Minnesota Fats, pool player deluxe;
backgammon
champion Tim Holland and tennis hustler Bobby Riggs.
One reviewer of this 1975 book was right on target when he described it as "A fine rogues gallery of near and complete charlatans-complete with splendid relish."
Bradshaw, a marvelous interviewer, was able to capture each individual's language, color and their gambling "savvy" while defining what makes certain people winners and most men losers.
Munchkin's
Gambling Wizards
, published in 2002, focuses on sports bettors Billy Walters and Stan Tomchin; poker players
Doyle Brunson
and the late Chip Reese; blackjack counter Tommy Hyland; backgammon player Mike Svobodny; horse bettor Alan Woods and Cathy Hulbert, blackjack and poker player.
While Bradshaw's book is told in a narrative format, Munchkin formats his work in a question-answer presentation. He is like a boxer: probing, jabbing, counter-punching and opening up his subject for details on how-when-why an event occurred.
Not only are both books entertaining and colorful, but they are in a way mini-textbooks, perhaps even a small course in helping train future bettors, explaining what went right or wrong in attempts to make each a successful gambler.